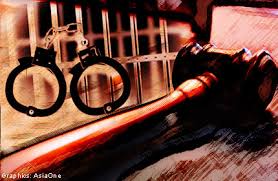 A county-level official was sentenced to death for bribery and embezzlement in Guangzhou, Guangdong province, on Wednesday.
Zhang Xinhua, 52, former general manager of Guangzhou Baiyun District Joint Company of Agriculture, Industry and Commerce, was also stripped of his political rights, and all property he gained illegally was confiscated, the Guangzhou Intermediate People's Court said.
"Zhang refused to confess his crime after he came under investigation," according to the public prosecutor.
Investigations into Zhang began in June 2013 when he was removed from his post on suspicion of accepting bribes and embezzling more than 340 million yuan (S$72 million) when he was general manager of the State-owned company from June 1998 to May 2013, said the public prosecutor.
He accumulated the largest sum of money from bribes and embezzlement in the city's history.
Zhang rejected the court's verdict and plans to appeal.
Born into a poor family in a rural area of Guangdong, Zhang was regarded as a legendary figure when he was appointed as deputy general manager of the company at the age of 32, becoming general manager at 36 and turning the company's losses into profits.
Peng Peng, a senior researcher at the Guangzhou Academy of Social Sciences, said Zhang had taken such a large sum in bribes and embezzlement that a death sentence will help assuage the public's anger.
"The case is expected to help deter other corrupt officials and economic suspects," Peng said.
Village head jailed
On Wednesday, the Guangzhou Intermediate People's Court also sentenced Lu Youxing, former head of Xiancun village, to four years in prison for accepting bribes.
Once known as "a village official of more than 100 million yuan", Lu was accused of taking bribes of more than 1.05 million yuan and HK$80,000 ($10,400) when he was in office from 2006 to 2013. He was also found to have accepted shopping coupons valued at 7,000 yuan.
The prosecutor said Lu had been given reduced punishment because he confessed to his crimes and showed remorse after he was detained.
Last month, anti-graft officials found a hoard of 120 million yuan in bank notes, 37 kilograms of gold, plus certificates showing ownership of 68 properties at the home of Ma Chaoqun, a branch manager for the drinking water monopoly in Qinhuangdao, Hebei province.
An investigation found Ma, a deputy county-level official, had a history of demanding bribes from people, and would threaten to cut off their water supply if they refused to pay.
Ma's case is still under investigation.