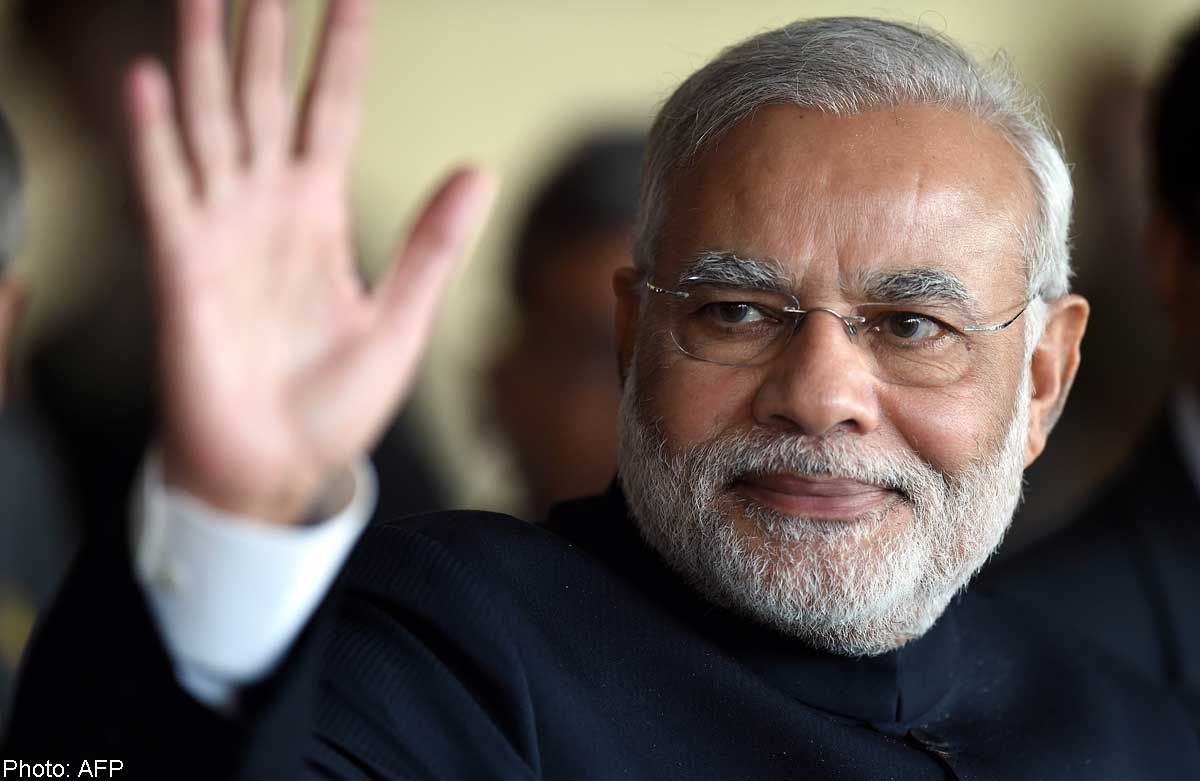 NEW YORK - Indian Prime Minister Narendra Modi on Friday started a visit to the United States which is rolling out the red carpet after shunning him for a decade, but a lawsuit revived past grievances.
The Hindu nationalist - who was refused a visa in 2005 over anti-Muslim riots when he was leader of Gujarat - pressed his hands together in a traditional namaste greeting on arrival in New York, where he will address the UN General Assembly on Saturday before heading to Washington.
Modi got to business quickly, meeting New York Mayor Bill de Blasio and discussing disease treatment with the director of the National Cancer Institute, Nobel laureate Harold Varmus.
On Sunday, Modi will achieve the feat of a rock star by greeting more than 18,000 people at the Madison Square Garden sports arena in an elaborate reception organised by Indian American activists, who have long campaigned to rehabilitate his image.
Modi, who earlier this year led his Bharatiya Janata Party to India's biggest electoral mandate in three decades, has shown no signs of bitterness over his past treatment by the United States and has called for the world's two largest democracies to work closely together.
"India and the US have a fundamental stake in each other's success - for the sake of our values and our many shared interests," Modi wrote Friday in The Wall Street Journal.
"The complementary strengths of India and the US can be used for inclusive and broad-based global development to transform lives across the world," he wrote, also calling for greater security cooperation in Asia.
Lawsuit revives dispute
But past tensions over the Gujarat riots came back into focus as a New York court issued a summons to Modi in a lawsuit that alleges "attempted genocide" during the 2002 violence, which left at least 1,000 people dead.
The American Justice Center, a human rights group, announced at a press conference that it had hired three people to serve the summons to Modi at his US events and that it would offer US$10,000 (S$12,727) to anyone else who successfully handed Modi the notice and caught the moment on camera.
The lawsuit, using a US law that allows prosecution of foreign officials over crimes against humanity, seeks damages for three survivors living in the United States.
The Indian foreign ministry in a statement called the case "frivolous and malicious" and said it aimed to distract from Modi's visit. Modi has denied wrongdoing over the violence and has never been charged.
A US official, speaking on condition of anonymity, said that Modi as a head of government enjoyed immunity.
Asked if his lawsuit sought to embarrass Modi, lawyer Gurpatwant Singh Pannun said: "He should have been embarrassed when he was leading the death squads that killed (the) innocent Muslim community."
In US civil law, a court issues a summons to a defendant in a lawsuit and the move does not indicate that further action would be taken.
But New York court cases are especially sensitive for India after one of its diplomats was arrested in December on charges of mistreating her servant. India angrily took counter-measures, viewing her treatment as insulting.
Red carpet welcome
The United States has been racing in recent months to make up for lost time with Modi and to undo the damage from the diplomat's arrest.
The US ambassador met with Modi during the election as it became clear his party would triumph. Since Modi took office, Secretary of State John Kerry and Defence Secretary Chuck Hagel have both travelled to New Delhi.
Obama invited Modi for talks at the White House next week after the UN General Assembly, an unusual invitation by the US leader who is sparing in the number of meetings during the giant annual summit in New York.
The United States and India have had warming relations since the end of the Cold War and the two countries have largely similar worldviews on the threat of Islamist extremism and the rise of China.
Modi is particularly eager to attract US investment to meet campaign goals to provide jobs for millions of Indians.