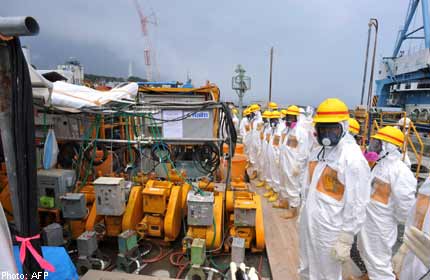 TOKYO - The operator of Japan's crippled Fukushima nuclear plant said on Tuesday it believes about 300 tonnes of highly contaminated water has leaked from a storage tank designed to hold overflows from the site. The leaked water contains 80 million becquerels of radiation per litre, a Tokyo Electric spokesman said by phone. The company will give further details at a media conference at 0330 GMT.
A becquerel is a measure of the release of radioactive energy.
The Fukushima plant was crippled by an earthquake and tsunami in March 2011, the world's worst nuclear disaster in a quarter of a century.
The government said this month it would step up its involvement in the plant's cleanup after announcing the station was leaking contaminated water into the ocean, following months of denials of a leakage by Tokyo Electric.