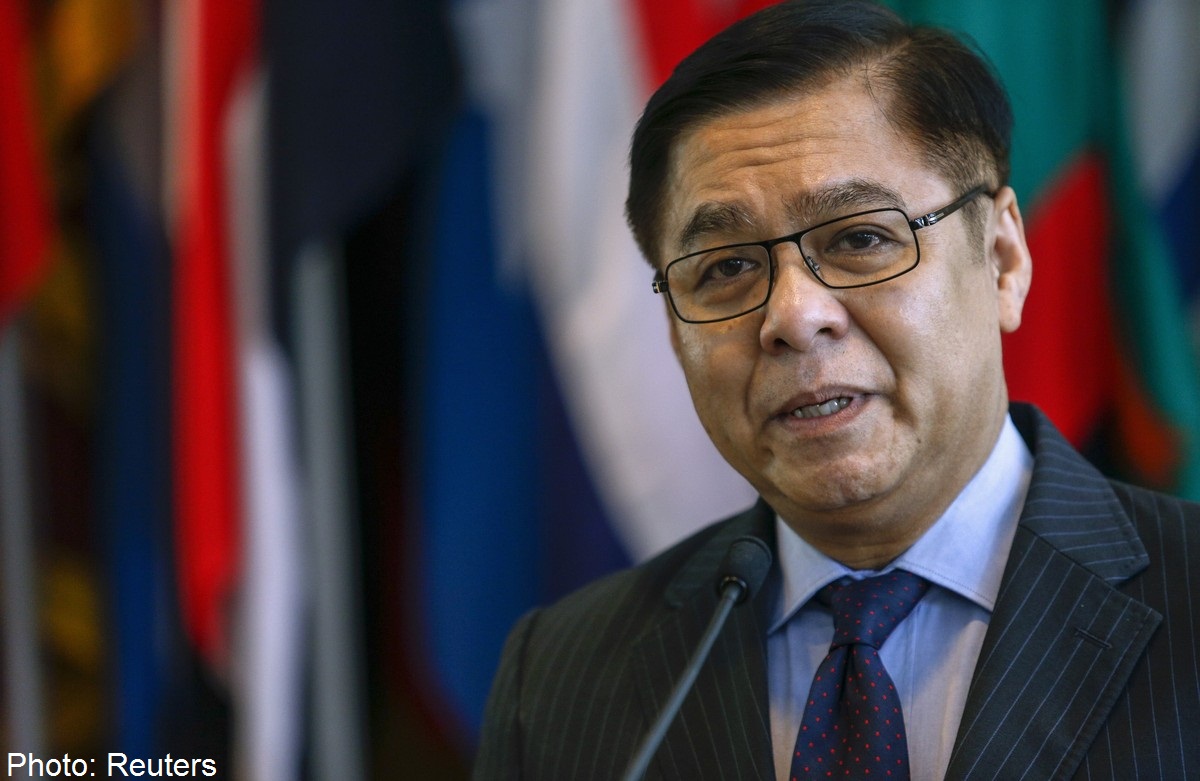 BANGKOK - Opponents of Thailand's junta launched a campaign on Tuesday to restore democracy and "oppose the military dictatorship and its aristocratic network", the first sign of organised resistance to the army since it seized power last month.
Jarupong Ruangsuwan, chairman of the Puea Thai Party that led the government ousted by the military, said in an open letter to fellow Thais that the military council had no legitimacy and cast doubt on its promise to transfer power back to civilian authorities at some point.
The military's aim, he said, was to create "a new puppet structure whose sole purpose will be to re-entrench anti-democratic elements into Thailand's body politic and to sabotage the development of Thai democracy". "Any such structure will need to be removed before a more democratic and civilised society can be built," he added.
His movement, the letter said, sought "to oppose the military dictatorship and its aristocratic network and establish the people's complete and unchallenged sovereignty".
The military staged a bloodless coup in May, after months of protests had undermined the government of Yingluck Shinawatra. The protesters wanted to kick out Yingluck and change the electoral system to stop her influential brother, ex-premier Thaksin Shinawatra, from ever controlling the government again.
Yingluck was removed by the Constitutional Court for abuse of power on May 7, leaving a rump cabinet that was then ousted in the coup on May 22.
Acting Thai Foreign Minister Sihasak Phuangketkeow dismissed the resistance group, telling reporters there was "only one legitimate government".
Most Western countries denounced the coup and demanded a return to civilian rule. The United States and European Union have cut cooperation projects and cancelling diplomatic visits.
Thailand has been in crisis for almost a decade because of a power struggle between Thaksin and the royalist establishment backed by the army and the middle class in Bangkok.
Thaksin, a billionaire former telecoms tycoon, is adored by the poor in the rural north and northeast, because of cheap healthcare and village development that raised their living standards when he was in office from 2001.
He was toppled in a coup in 2006 and has lived in exile since 2008 rather than serve jail time for an abuse of power conviction, but parties led by or loyal to him have won every election since 2001.
The junta moved quickly to neutralise resistance inside Thailand after its coup, briefly detaining hundreds of politicians and members of the pro-Thaksin "red shirt" movement and warning them not to work against the military government.
It was unclear how Jarupong's movement, the Organisation of Free Thais for Human Rights and Democracy, would oppose the junta and his letter did not reveal where it was based.
Jakrapob Penkair, a former spokesman for Thaksin, told Reuters from neighbouring Cambodia on June 5 that a movement was being formed outside Thailand to lead a campaign of civil disobedience.
Cambodia's long-serving prime minister, Hun Sen, is close to Thaksin, but his government has said it will not allow a Thai resistance movement to base itself in the country.
THAILAND FEARS ECONOMIC PAIN
Acting Thai Foreign Minister Sihasak had been due to brief reporters, alongside EU ambassador Jesus Miguel Sanz, on the measures adopted by the 28-nation bloc. But Sanz left immediately after the two met.
The EU, Thailand's third largest trade partner and its second biggest investor, has suspended visits and trade talks and said it would consider "further possible measures". "What the EU has done impacts some sectors only. The private sector and tourism should continue as normal," Sihasak said.
The US State Department last week downgraded Thailand to the lowest status on its list of countries trying to eliminate human trafficking.
There are mounting fears that the downgrade could hurt Thai exports, which account for more than 60 per cent of gross domestic product, including its lucrative seafood industry.
Supan Mongkolsuthee, president of the Federation of Thai Industries, said frozen products and shrimp fishing could be affected. "But I believe the US will not turn away Thai seafood products because the situation is not as bad as news reports make out," he told a meeting on Monday.
Thailand is the world's largest exporter of shrimp, but its fishing industry has been jolted by media reports that exposed its reliance on human trafficking for labour.