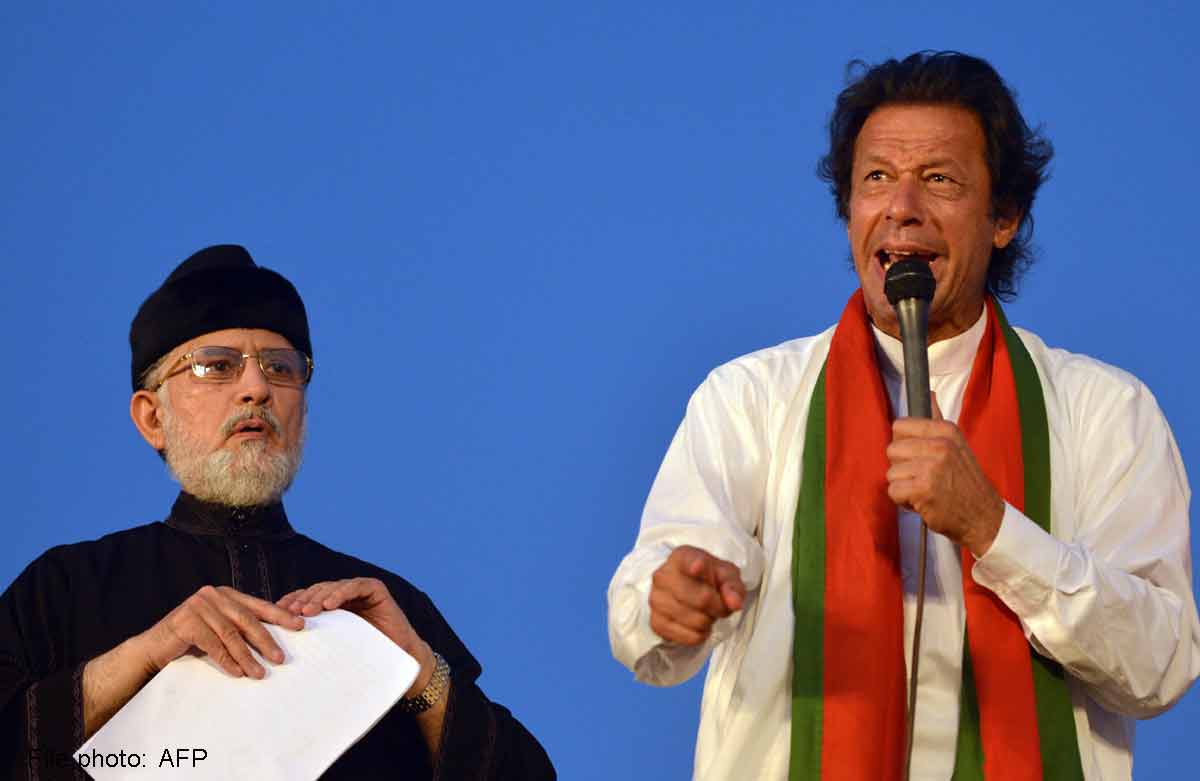 ISLAMABAD - The Pakistan government on Wednesday blamed opposition street protests for a slump in a state-owned oil company's share price that forced a part sell-off to be shelved.
The government decided to hold back the auction of 10 per cent of shares in the Oil and Gas Development Company Limited (OGDCL), which manages Pakistan's sizeable oil and gas reserves.
Cricketer-turned-politician Imran Khan and populist cleric Tahir-ul-Qadri led thousands of supporters in weeks of protests outside parliament, pressing for the resignation of Prime Minister Nawaz Sharif over alleged election rigging.
The rallies, which began in August, descended into violence at points. They failed to force Sharif from power but destabilised the government for a while.
"Due to sit-ins the share price of OGDCL fell from 274 rupees ($2.60) to 225 rupees ($2.20) and we do not want to sell so low," Finance Minister Ishaq Dar told a press conference.
"Had there been no sit-in and share price had remained same, the government would have received US$600 million, US$200 million domestically," Dar said, noting that a recent slump in international oil prices had also contributed to the lukewarm response.
He said that had the government gone ahead with the sale, it would have only received $180 million from abroad and $160 million locally.
"We should not be seen as distressed sellers. Pakistan's assets will not be sold or disinvested under pressure," Dar said.
He said the "right message" had gone out and OGDCL shares had risen to around 240 rupees.
The Privatisation Commission had offered 311 million shares to international investors, but it got offers for merely 50 per cent.
Opposition parties and the employees of the company had also opposed the OGDCL auction.
Khan and Qadri's rallies forced Chinese President Xi Jinping to cancel a planned trip to Pakistan in September, and the unrest also saw the rupee lose more than four per cent of its value against the dollar in August.
The International Monetary Fund (IMF) on Saturday indicated Pakistan was on track to receive the latest instalment of a US$6.8 billion bailout package agreed last year.
The deal was arranged to help the country achieve economic reforms, particularly in its troubled energy sector.
"The mission was encouraged by the strong fiscal performance achieved during FY 2013/2014, and by the authorities' determination to further lower the deficit to 4.8 per cent of GDP in the current fiscal year," an IMF statement issued on Saturday said.