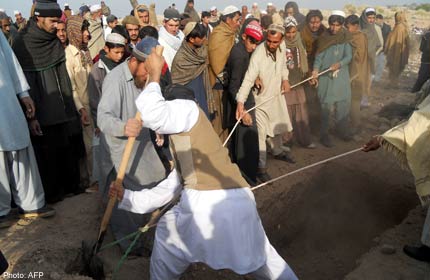 MIRANSHAH/PESHAWAR, Pakistan - Pakistani fighter jets and helcopters attacked suspected Taliban hideouts in a tribal area on the Afghan border on Tuesday, killing up to 40 people, military sources and residents said, after a wave of insurgent attacks against security forces.
It was the first time the air force has resorted to fighter jets in the volatile region since it struck a ceasefire agreement with local Taliban chiefs in 2007. Air strikes also hit the nearby tribal region of Kurram.
"Can you hear the noise of the gunships? They are just over our heads," resident Haji Jamaludin told Reuters by telephone. "Everyone in the village is running around with children and women looking for a safe place to hide."
Sparking speculation that a military operation was imminent, Prime Minister Nawaz Sharif cancelled his trip to the World Economic Forum in Davos on Sunday following a Taliban attack on an army convoy in which 20 soldiers were killed.
Sharif has been under pressure from the United States and hawks within the Pakistani army to take tougher military action against Taliban militants who regularly launch attacks against security forces from their hideouts high up in the mountains.
The Pakistani Taliban, who are aligned with the Afghan Taliban and have links to al Qaeda, are fighting to topple the central government in Islamabad and impose strict Islamic rule in the nuclear-armed South Asian nation.
The death of Taliban chief Hakimullah Mehsud in a November drone strike has further enraged the Taliban, with its new leader, Mullah Fazlullah, vowing to step up his campaign.
"We strongly condemn this cowardly act which they (Pakistan's army) carried out under cover of darkness, targeting sleeping people," said Pakistan Taliban spokesman Shahidullah Shahid.
"If you people target innocent people in their homes, we will target you in your homes in Islamabad too."
Military officials said fighter jets were targeting only militant positions North Waziristan, a lawless mountainous region where many militants are based, but locals said there were numerous civilian casualties.
Sharif, who came to power last year, has insisted military action was a last resort option and promised to find a negotiated solution, but the Sunday attack on the army convoy might have been the last straw.
Villagers described scenes of panic as fighter jets and helicopter gunships pounded the Mir Ali area, sending villagers fleeing from their homes into the cold to hide.
There was no official word on civilian casualties and residents gave different numbers. Pakistani military sources in the army headquarters in the city of Rawalpindi put the death toll at 40, all of them militants.
Tribal elders said between 15 and 24 people were killed. A Taliban source put the death toll at 27.
CHILDREN SPEND NIGHT IN THE OPEN
"The jets successfully targeted hideouts of the militants involved in recent attacks on security forces and civilians in the country," said a senior official in Peshawar. "Twenty three militants were killed and several injured."
A tribesman in Haiderkhel village, Musafar Khan, said several houses had been bombed. "We spent the night in the open with children, and others went to nearby villages because of the bombing in our village," he said.
Another man, Nassemullah, said 15 people were killed when a bomb hit a mosque. "Those who were killed in the mosque were local villagers," he said. "We will seek revenge for this."
Despite Sharif's emphasis on peace talks, attacks have continued unabated since he came to power, a worry to regional powers already anxious about security as foreign troops prepare to pull out from neighbouring Afghanistan this year.
"Pakistan air force fighter jets were called to hit hideouts of the militants involved in attacks on security forces," said one military official who spoke on condition of anonymity.
Following a wave of fighter jets strikes, the army called in helicopter gunships to shell suspected hideouts. Residents said bombardment started overnight without any warning.
Local sources said a house belonging to Adnan Rasheed, a prominent Taliban commander once jailed for trying to assassinate former President Pervez Musharraf, was hit by the overnight raid but he and his family escaped unscathed.
"We were all asleep when the planes started bombing the village," said Khyal Zaman, a tribesman from the village of Esori. "We had no idea what happened in the dark and those who survived came out of their homes in desperation along with children and started walking away into the open."