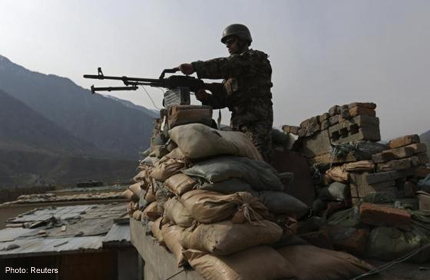 PESHAWAR, Pakistan - Pakistani Taliban militants holed up in Afghanistan are being squeezed by US drone strikes and a revolt against them, a trend that could disrupt the insurgents' capability to strike in Pakistan.
For years, Pakistani Taliban commanders fighting the Pakistani state have been hiding in remote areas of east Afghanistan, plotting attacks and recruiting.
But in recent weeks, officials say the insurgency has been weakened by a spate strikes by US drones and a rebellion by tribesmen in Afghanistan's Kunar province.
The Pakistani and Afghan Taliban are allied and share the goal of toppling their respective governments and setting up an Islamist state across the region.
Their presence on both sides of the border has been a bone of contention between Afghanistan and Pakistan, with the two trading accusations of sheltering insurgents.
But the ascent to power of Afghan President Ashraf Ghani has raised hopes for more cooperation in tackling the insurgency.
Four Pakistani Taliban commanders told Reuters drone strikes and tension with tribesmen had forced them to move from small Afghan towns to mountainous border areas.
Two of them said they narrowly missed being hit by US drones last month. There is no complete record of Afghan drone strikes so it was not possible to verify their claims.
A strike on Nov. 24 hit a house where Pakistani Taliban leader Mullah Fazlullah had stayed the night before and killed two commanders, one Taliban commander said.
A drone strike on Monday in Nangarhar province killed eight people, including Pakistani Taliban, said district governor Mahlem Mahshuq.
Drone strikes in Afghanistan have increased recently, said Matthew Henman, who runs IHS Jane's Terrorism and Insurgency Centre Database, which tracks reports of strikes. Out of 56 reported this year, 30 were since September.
Relations between Pakistani Taliban and tribesmen have also deteriorated - a trend Afghan forces are trying to exploit.
Kunar governor Shuja-ul Mulk Jalala said there was an uprising in Dangam district 11 days ago.
"Villagers, backed by a unit of Afghan police and army launched an operation against the Pakistani Taliban," he said.
Jalala said villagers had complained of Pakistani Taliban harassment and the militants sometimes attacked Afghan forces.
"Elders complained that there were no difference between good or bad Taliban and decided to drive them out," Jalala said.
A militant commander on Pakistan's border said Afghan forces had detained some Pakistani militants.
"Previously, they would avoid visiting areas where our people were staying and even provided food ... but now they're creating problems," another militant said.