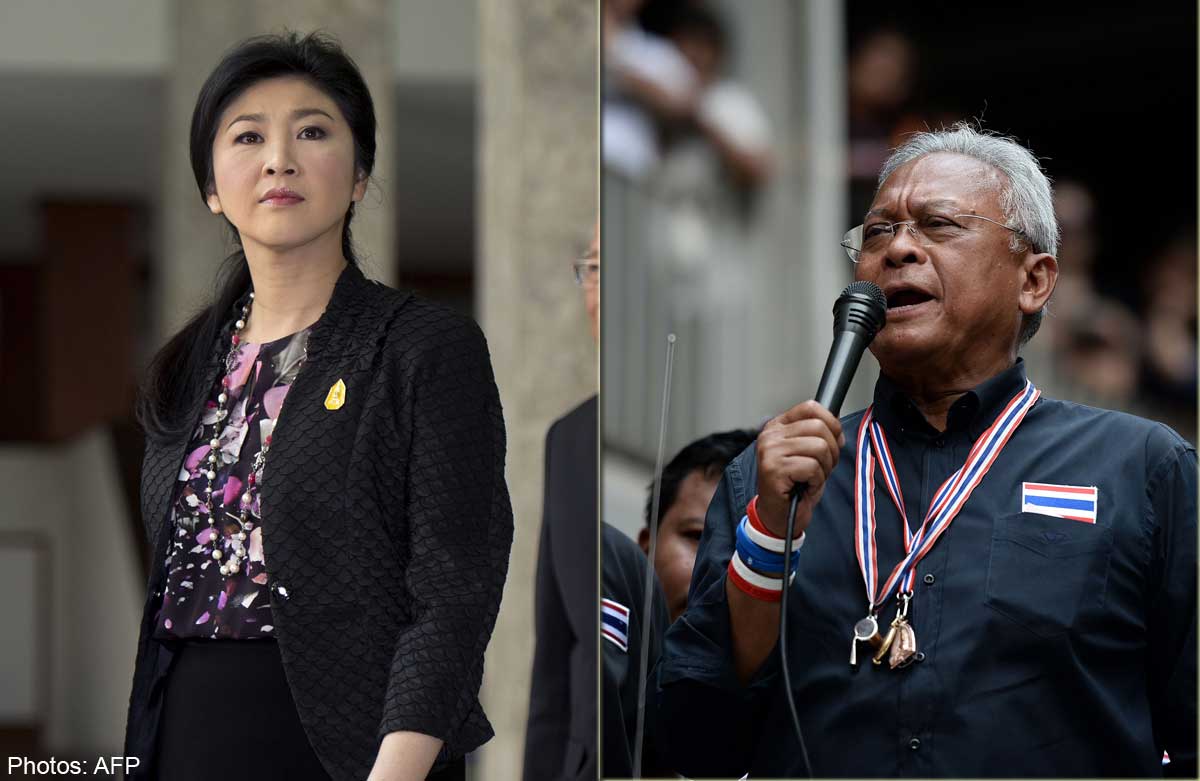 The door for negotiations to resolve the political crisis was slammed shut yesterday after caretaker Prime Minister Yingluck Shinawatra announced that her government would not nominate 10 individuals to mediate talks with the People's Democratic Reform Committee (PDRC).
Six independent organisations called on both sides to name 10 people who could help facilitate talks and move toward ending the political impasse.
The six agencies - the Office of the Ombudsman, the National Economic and Social Advisory Council, Election Commission, the National Human Rights Commission, National Anti-Corruption Commission and the Office of the Auditor General - made this decision at a meeting on Monday to look for a way out of the deadlock.
Yingluck said she would not nominate mediators because PDRC secretary-general Suthep Thaugsuban had turned down the proposal as well. "So, the government believes it will be useless [to nominate]," she said.
However, the PM backed the idea of mediators holding talks, provided they lead a way out.
Asked about the PDRC's continued push for reforms before an election and the government's insistence on holding a poll first, Yingluck replied that holding elections first was not a condition.
Meanwhile, Election Commis-sioner Somchai Srisuthiyakorn said he would give up trying to end the conflict if the caretaker government and the PDRC reject the proposal by the six agencies.
Somchai made this remark while issuing a letter addressed to both sides in relation to the six organisations' offer to set up a non-partisan committee to collect proposals from the conflicting sides and make adjustments until a conclusion can be achieved.
He said the government and the PDRC had until March 24 to consider the proposal, adding that their replies to this letter as well as their answer to the proposal to nominate 10 mediators would be opened publicly at the same time.
He went on to say that if both parties were found to reject the idea, then the six organisations would give up, and say they had done their best. But he reiterated that holding a dialogue was still the best way out.
On Monday night, Suthep told PDRC supporters at Lumpini Park that he would not propose any names.
"It's not that I don't want to cooperate [with the agencies], but I don't think I can find neutral mediators because Yingluck and her brother Thaksin will continue clinging to power," he said.
"They will use all means available to them to fight and will only seek talks when they have lost. We can't accept their proposal to return Thaksin's Bt40 billion (S$1.57 billion) that was seized by the court and hold an election before national reforms are put in place."