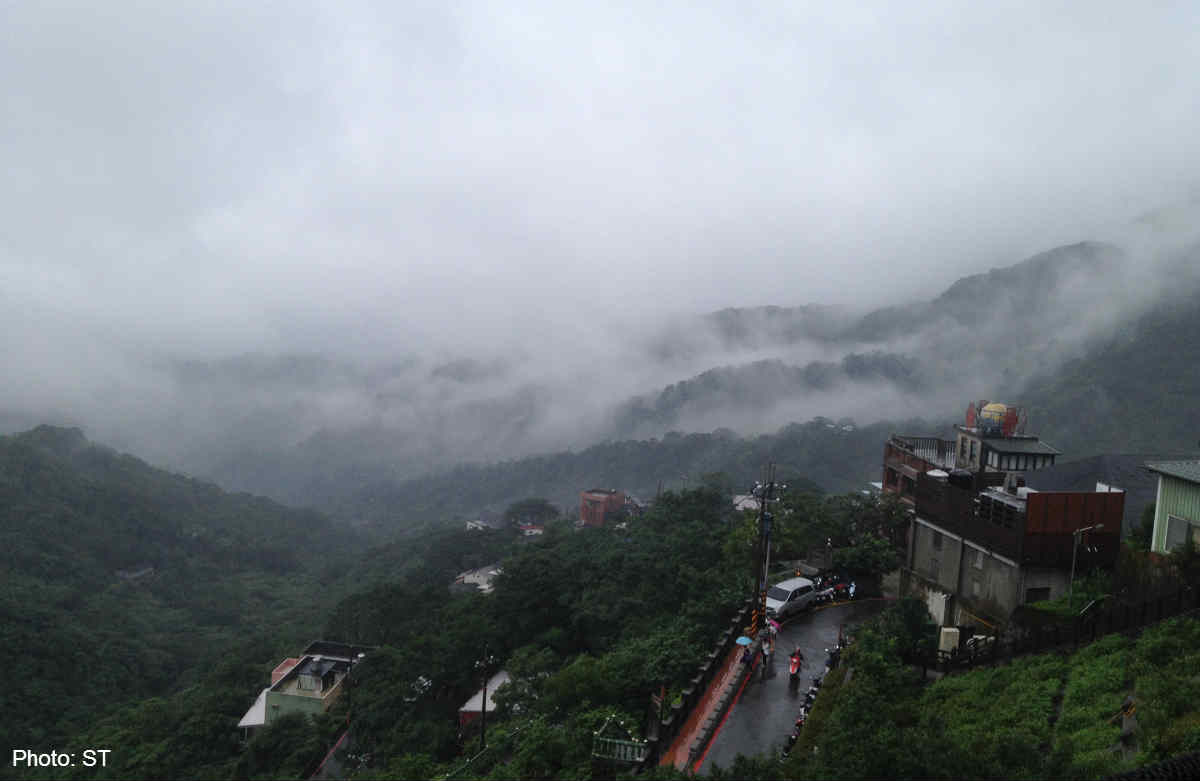 Light rain fell sporadically throughout the four days I spent in Taipei in early June but the cooler temperatures made for plenty of pleasant walks in the city and short day trips beyond.
Visitors to the sprawling city often have its glitzy Taipei 101 skyscraper and stylish precincts like Ximending on their check-list but I prefer the older districts to observe how ordinary residents go about their daily lives.
So I ask Nina, the helpful concierge at the hotel I am staying at, to recommend a morning market where residents congregate. Her choice is Shuanglian market - an "easy, five-minute walk" from the hotel in Zhongshan North Road.
The market turns out a lot like the many night markets that Taipei is famous for, only that it is smaller and daylight allows me to better observe what the peddlers sell and marvel at how business is conducted in such a friendly manner.
"Feel the bra, no problems," a woman manning a lingerie stall makes her pitch to entice those who have turned out in droves on this Saturday morning to shop for vegetables, fruit and fish besides fried snacks, juices, trinkets and clothes.
A word of caution though: Do not be so enthralled that you do not watch out for the occasional scooter which wends its way - albeit slowly - through the crowd.
The human crush is bigger at another market - this time, a night market - in Raohe, which I had been tipped off is more authentic than the more well-known rival in Shilin.
One big plus in Raohe is that you cannot get lost since the market essentially fills only a single road. You can easily do a loop in two hours - not including the time you may spend eating in the many small restaurants there besides making pit-stops to snap up the vast array of fried, braised and steamed snacks from the stalls.
But you can also snack for free at various cake shops that offer generous samplings and even free Chinese tea.
Raohe may be a bit far if your hotel is, say, in the more fashionable Xinyi district near Taipei 101, but hailing a taxi is easy and cheap (starting rate: NT$70 or S$2.90).
The cost should not go beyond NT$250 to most city destinations.
Hence, while the subway is as good and affordable as Singapore's, it is more worthwhile to take a cab if you are travelling in a group of four.
Cabbies can also be booked for day trips outside the Taiwanese capital if taking a bus or train - tickets can be hard to come by - is too bothersome.
Nina helps me with a seven-hour booking for NT$3,500, which she says is ample time to enjoy the hillside allures of Jiufen.
On the day we reach Jiufen after a 45-minute drive, rain falls in scattered bursts which makes winding through the busy main street - packed with shops and eateries - a challenge as we have to avoid not being hit by the sizeable umbrellatoting crowd.
Still, the brightly lit shops and festive ambience make us glad we are there though I am more interested in the old buildings - some with ornate balconies - that cling to the hill as well as the steep paths and steps that lead to homes from the retail zone.
For me, the biggest payoff is the bunch of teahouses at one end of the shopping street and it is at one that we enjoy an hour of heavenly bliss.
It is a joy to imbibe freshly brewed tea and drink in the views of the surrounding area, made more ethereal by thick swirls of mist everywhere and which obscure the sight of the nearby port of Keelung.
When we ascend the steep steps to get back to the cab, we pass by a couple who are gamely having their wedding photos taken, despite the rain.
They are a good-looking pair and would not be out of place in a Taiwanese idol drama.
We ask the driver to drop us off at Danshui, an old district in Taipei whose old-world atmosphere is topped off by its location along a river that offers cruises.
But we are content to stroll along its streets and boardwalk, observing what the residents do as the day ends, from schoolkids waiting for a ferry to cross the river to devotees dropping in at an old temple dedicated to Mazu - the Chinese goddess of the sea - and which comes with an electronic board that is continually updated with announcements and inspirational messages.
But while it is important to nourish the soul, one needs to feed the body too. One drizzly afternoon, my sons decide that we should eat beef noodle soup - and they have heard from pals of this outlet in Yongkang Street.
We take a cab there and the area turns out to be a warren of lanes filled with old buildings but dotted with quaint shops and restaurants.
We are not sure where the beef noodle place is but we have a clue: It is near a school and passers-by point us the right way.
There is a queue outside the eatery - Yong-Kang Beef Noodle (17, Lane 31, Section 2, Jinshan South Road) despite the drizzle, but the waiting time is not long, and soon we are tucking into steaming bowls (NT$220) with sizeable chunks of very tender beef.
Near this place is Smoothie House (15, Yongkang Street), an institution for lovers of desserts like mango with ice shavings, with prices from NT$75.
Unfortunately, its seating area is small and we join a big crowd - including many Korean and Japanese visitors - to wait at least 30 minutes for a table.
But after we have our fill and walk towards the main road, we pass by another Smoothie House and we wish we have known about this branch, since it is bigger and there is no queue.
There is also a big crowd at InHouse (90, Songren Road) where we drop in on our last night in Taipei. It is in the upmarket Xinyi area and the only place outside of the older precincts that we make an allowance for.
We head there because my nephew - who is in the advertising trade and has lived in Taipei for eight years - insists that we should meet at this nightspot.
It is supposedly among the top five in the city but the vibe is down-to-earth, with some patrons in bermudas and T-shirts.
The drinks are affordable, the music is a very loud house - I have a sorethroat the next day, from shouting to be heard above the din - and there is no ban on smoking on-site.
We meet Edward, a friend of my nephew, who is an IT product manager from Hong Kong and a frequent visitor to Taipei.
He tells me he is so in love with Taiwan that he plans to do a nine-day trip round the island soon - by motorbike.
I ask if I can tag along, he says "why not?" and we drink a toast to the adventures to come.

This article was first published on July 13, 2014.
Get a copy of The Straits Times or go to straitstimes.com for more stories.