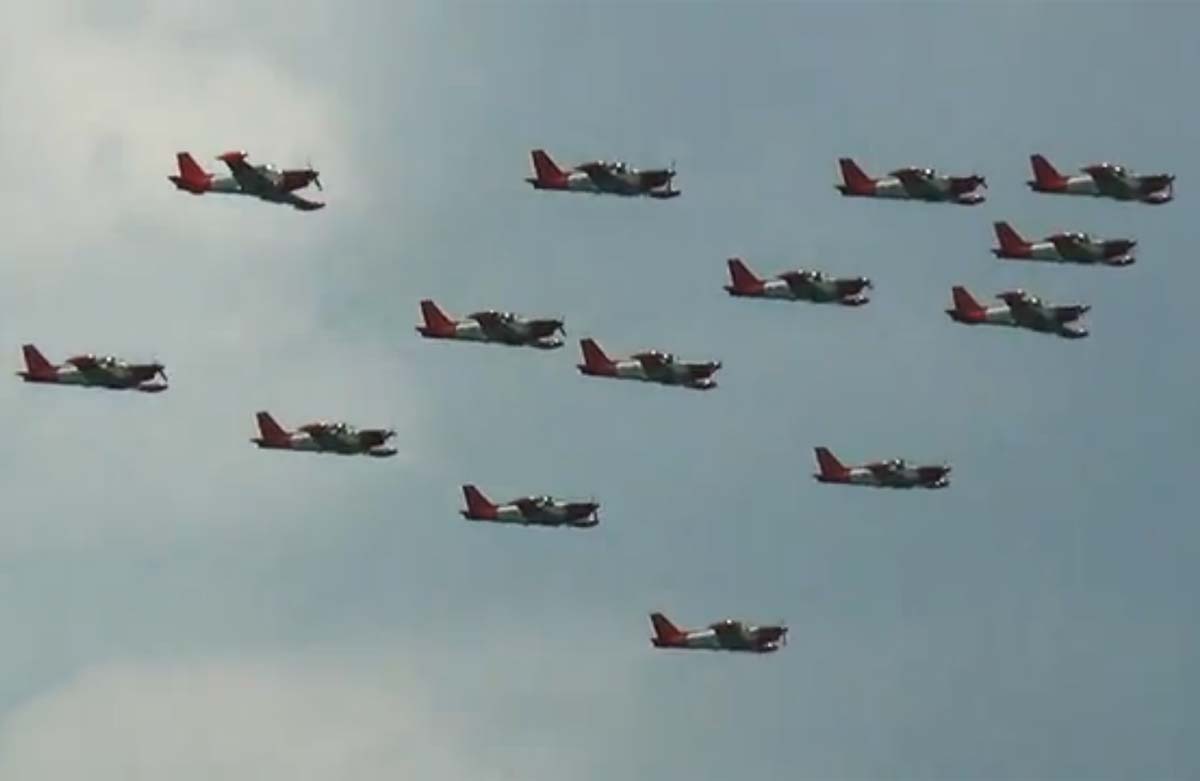 CLARK AIR BASE, Philippines - No longer all air and no force.
The Philippine Air Force showcased its air and ground assets on Wednesday during the its 68th founding anniversary celebration held here.
President Benigno Aquino III, guest of honour and speaker, said the joke "all air, no force" is now a thing of the past. He blamed the persistent joke as a result of the previous administrations' "transactionalism" and "corruption."
"Kung babalikan nga ang kasaysayan, nakakalungkot isipin na ang ating Hukbong Himpapawid, na isa sa unang naabot ang 'jet age' sa ating rehiyon at nakilala sa mga operasyong tulad ng Bali at Congo Missions, ay naiwang 'grounded' dahil sa sistema ng katiwalian, transaksiyonalismo, at maling pamamalakad na namayani sa ating bansa nang mahabang panahon," he said.
But Aquino said his "daang matuwid" (straight path) of leadership led to the modernization of the Philippine military.
Under his term, Aquino said he was able to complete 55 projects under the AFP modernization programme, but the past three administrations before him completed 45 projects combined.
More air assets are underway, Aquino said, including two C-130 cargo planes, two more C295 medium lift aircraft, eight Bell 412 combat utility helicopters and 12 lead-in fighter trainer jets.
Pass-in-review and capability parade
Some of the ground assets that were part of the pass-in-review and capability parade included communication vans, V-150 personnel carriers, humvees,KM450 transport vehicles, explosive and ordnance disposal vans, K9 vans with K9 teams.
For the air assets, nine T-41 primary trainer aircraft formed in diamond formation; 15 SF260 basic trainer aircraft in Delta formation and two S-211 aircraft from the air defence wing.
The Air Force also displayed two OV-10 Broncos and two SF-260TPs. Both are capable of delivering precision bombing and rocketry to targets. The PAF described these as "front runners for internal security operations and tactical air operations."
Other aircraft used in the capability parade included a Nomad N-22 and a Fokker F-27 of the 220th Airlift Wing, used to transport of personnel and cargo.
Also paraded were three MD-520MG helicopters from the 15th Strike Wing.
These air assets are used in aerial reconnaissance, air escort and close air support to operating troops on the ground.
Five of the controversial UH-1D and five UH-1H helicopters from the 205th Wing also joined the parade, as well as three Sikorsky S-76As, one Bell 205 and four Sokol helicopters.
Sixty-eight airborne paratroopers, or soldiers in parachutes, also dropped from C-130 planes in the sky.
The capability parade was capped by Delta formation of aircraft from the Air Education and Training Command, which produced coloured smoke, as a salute to the Air Force.