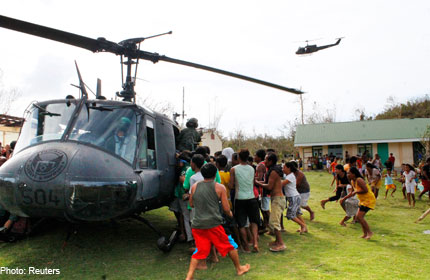 Please give us food, give us medicine. Help us.
Sadly, for many people on the typhoon-struck Philippine island of Leyte, the pleas have yet to be answered.
Said one of Leyte's residents, Ms Erika Mae Karakot: "We need water and medicine because a lot of the people we are with are wounded.
"Some are suffering from diarrhoea and dehydration due to shortage of food and water."
Even though the authorities had evacuated some 800,000 people ahead of the typhoon, the death toll was predicted to be as high as 10,000 because many evacuation centres - schools, churches and government buildings - could not withstand the winds and water surges.
Officials said the people who had huddled in these buildings drowned or were swept away.
Some people also did not heed warnings to leave.
One of the worst hit among the six central islands affected was the coastal city of Tacloban in Leyte, where tsunami-like waves destroyed many buildings.
The city of 220,000 resembled a garbage dump from the air, punctuated only by a few concrete buildings that remained standing, reported AP.
A team of military cadaver collectors was deployed, but the soldiers appeared overwhelmed.
"There are six trucks going around the city picking up the dead, but it's not enough," said the driver of one of the vehicles, as it wended its way through the streets.
"There are bodies everywhere. We do not have enough people to get to them."
BODIES
Some survivors handed out letters to passers-by and reporters, asking them to contact their relatives to relay their fates, while others simply tried to survive as best they could.
On the outskirts of Tacloban, Mr Edward Gualberto accidentally stepped on bodies as he raided the wreckage of a home.
Wearing nothing but a pair of red basketball trousers, the father-of-four and village councillor apologised for his shabby appearance and for stealing from the dead.
"I am a decent person. But if you have not eaten in three days, you do shameful things to survive," Mr Gualberto told AFP, as he dug canned goods from the debris and flies swarmed over the bodies.
"We have no food, we need water and other things to survive."
After half a day's work, he had filled a bag with an assortment of essentials, including packs of spaghetti, cans of beer, detergent, soap, tinned goods, biscuits and candies.
"This typhoon has stripped us of our dignity... but I still have my family and I am thankful for that."
Video from Eastern Samar province's Guiuan township - the first area where the typhoon made landfall on Friday - also showed a trail of devastation similar to Tacloban.
Many houses were flattened and roads were strewn with debris and uprooted trees.
An ABS-CBN video showed bodies on a street, covered with blankets, reported Reuters.
"I have no house, I have no clothes. I don't know how I will restart my life, I am so confused," an unidentified woman cried.
"I don't know what happened to us. We are appealing for help. Whoever has a good heart, I appeal to you ."

Get The New Paper for more stories.