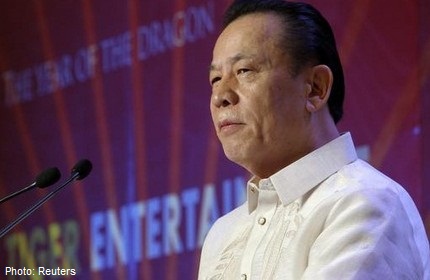 MANILA - The Philippine government plans to send agents to Tokyo to pursue a bribery investigation into $40 million in payments made by Japan's Universal Entertainment Corp in 2010 related to its Manila casino project, sources with knowledge of the matter said on Tuesday.
Agents from the Department of Justice and the National Bureau of Investigation want to interview three former employees of the Japanese gaming machine maker and are coordinating with the Japanese authorities, the sources added.
"We were told to prepare a team that will go to Tokyo to interview face-to-face people who have direct information about these payments and find out if the monies were indeed bribes in exchange for some government action," one of the sources told Reuters.
The sources declined to be identified due to the confidentiality of the matter and there was no immediate comment from the Philippines authorities.
Universal spokesman Nobuyuki Horiuchi also declined to comment on the Philippine investigation. The company has said previously that it conducted its business in the Philippines lawfully.
In July, the Philippines justice department said there was not enough evidence to justify filing bribery charges but maintained its investigation into the case.
Justice Secretary Leila de Lima was quoted on Monday as saying there was now enough evidence to pursue an investigation of Universal, which is controlled by billionaire Kazuo Okada, for bribing Philippine gaming officials.
"My instructions are to continue the case build-up because there is documentary evidence indicating that there was indeed bribery," De Lima was quoted in the Manila Standard-Today newspaper as saying.
Reuters has reported that the US Federal Bureau of Investigation was probing $40 million in payments from Universal to a close associate of the former head of the Philippine gaming authority in 2010 around the time the company was granted concessions for its Manila Bay casino.
Universal said in December it filed a defamation suit against Reuters in Tokyo for its reporting on the payments.