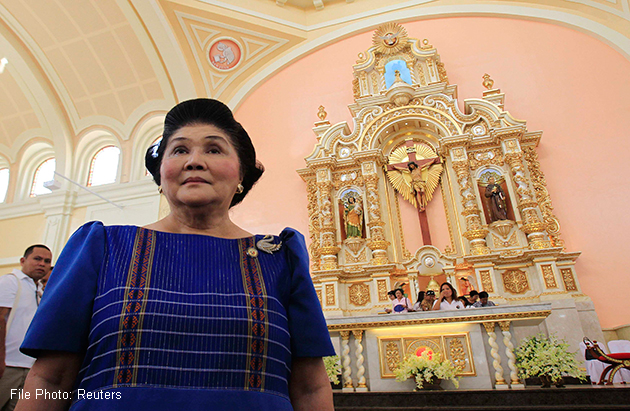 MANILA - Philippine authorities moved Tuesday to seize paintings by Picasso, Gauguin, Miro, Michelangelo and other masters held by Imelda Marcos after getting a court order against the former first lady.
Police and lawyers will search the homes and offices of the widow of dictator Ferdinand Marcos after a court awarded the artworks to the government, said a state body pursuing the Marcoses' allegedly ill-gotten wealth.
"The paintings will be retrieved starting today" after the court ruled on Monday they had been purchased with funds embezzled from the government, the state body's spokesman Nick Suarez told AFP.
Suarez said he did not have estimates of the current value of the artworks, which include Pablo Picasso's "Femme Couchee VI (Reclining Woman VI)", Michelangelo's "Madonna and Child", and a still life by Paul Gauguin.
The others are a Francisco de Goya portrait of the Marquesa de Santa Cruz, Pierre Bonnard's "La Baignade Au Grand Temps", Bernard Buffet's "Vase of Red Chrysanthemums", Joan Miro's "L'Aube", and one of Camille Pissarro's "Jardin de Kew" series.
Imelda Marcos, 85, who is a keen art collector, will appeal the court ruling, said her lawyer Robert Sison.
"The order is highly questionable. We will question that order," he told AFP.
Sison described the court ruling on the eight paintings as "illegal" since they were not included in a forfeiture case that the government had earlier filed against the Marcoses.
The Philippine Supreme Court ruled in the government's favour on the forfeiture in 2003, a case that included US$658 million (S$837 million) in Swiss bank deposits.
The government alleges the Marcos family plundered an estimated $10 billion from the nation's coffers before a military-backed People's Power revolt in 1986 forced them into exile in Hawaii where the dictator died three years later.
The flamboyant former first lady symbolised the excesses of the Marcos years with her collection of 3,000 shoes and jewellery fit for European royalty.
In all, the government is searching for 150 paintings by Van Gogh, Rembrandt, Picasso, Monet and Michelangelo that the Marcos family allegedly amassed during their 20-year rule, according to the wealth recovery body's chief Andres Bautista.