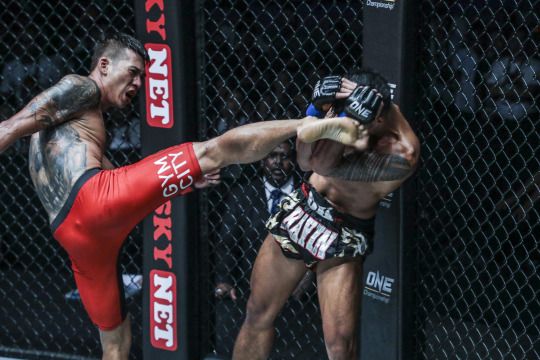 Yangon's own Phoe "Bushido" Thaw had the toughest match of his career against Saw Ba Oo at ONE: HERO'S DREAM in Myanmar's Thuwunna Indoor Stadium, and did just enough to pull away with the razor-thin split decision victory.
The crowd was buzzing as both men casually walked to the center of the cage to open the contest. After a brief lull, each man quickly opened up, and started going at it.
Nearly a minute into the bout, Phoe Thaw double legged Saw Ba Oo to the ground. Saw Ba Oo used the fence to get back to his feet, but was dumped back to the canvas. That was when things got wild with a series of reversals. 
"Bushido" finally went for a triangle off his back and forced his opponent to defend, and then transitioned to an armbar soon thereafter. Saw Ba Oo, a native of Hpa-an, was not going out quietly, and slammed Phoe Thaw to escape the hold before delivering ground punches to close the round.
Saw Ba Oo picked up right where he left off in the second frame, using his Lethwei striking to daze the Yangon native, and then went for a takedown of his own. 
Another series of wild reversals and ground attacks ensued, with Phoe Thaw eventually getting the full mount halfway through the round. Saw Ba Oo escaped and got side control, but soon returned to the feet. There, he tried pushing the pace, but Phoe Thaw jumped guard and ended the stanza with a guillotine choke attempt.
Both men were tiring in the third round, but Phoe Thaw did his best to press the action with leg kicks, front kicks to the face, and even a spinning backfist. Saw Ba Oo did not back down, however. 
Instead, he responded with stiff uppercuts and hooks, and closed the distance on his taller foe. While "Bushido" missed with his punches, his kicks were connecting, and that may have been a factor in the judges' decision.
Now a perfect 5-0, Phoe Thaw expressed his thankfulness to the home crowd and looks towards his next featherweight clash.