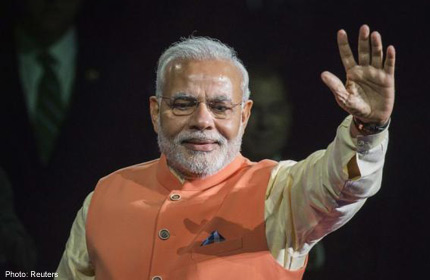 NEW DELHI - Prime Minister Narendra Modi delivered on Friday the first of many radio addresses he plans to make to mobilise support among ordinary people for his agenda of change.
Modi used his maiden address to urge hundreds of millions of countrymen, many of whom have no access to television, to do their part to help get India's economy moving.
A day earlier, Modi launched a campaign to clean up India's towns and villages that he has said were an embarrassment and an impediment to tourism.
"A lot of us think that it is the government's responsibility to do everything...if we want to develop, then 1.2 billion will have to work towards it," he said in the radio show titled "Mann ki Baat", or "Talking from the Heart".
Modi, who came to power in May, plans to make his radio speeches at least every month on Sunday mornings to get his message across to two thirds of India's 1.2 billion people who listen regularly to the radio.
His speeches will be translated in 24 local languages.
Blessed with charisma and able to speak in the language of the common man, Modi has adopted a more personalised style of leadership role to bring focus to uncomfortable issues that past governments have often avoided.
He has spoken about the lack of toilets in a country where half the population defecates in the open, putting people at risk of cholera, diarrhoea, dysentery, hepatitis A and typhoid.
During Friday's 14 minute address, Modi narrated two short stories with the aim of encouraging people to keep the country clean, buy locally produced handspun khadi fabric popularised by independence leader Mahatma Gandhi, and help children with special needs.
"We have to recognise our internal strength. We all have to march ahead with self-confidence, create our own identity and attain success for oneself and the nation," he said.
Modi has used Facebook and Twitter, where he has about 6.4 million followers, to bypass traditional news media and communicate his thoughts.