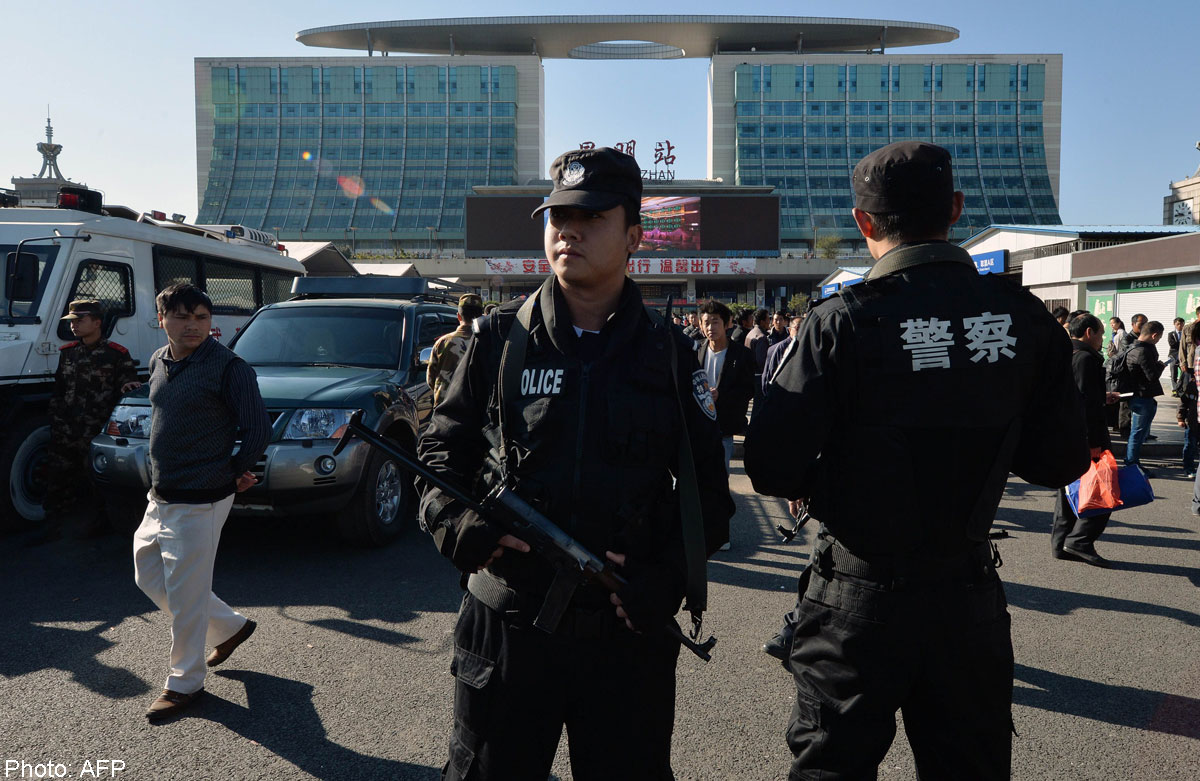 A sharp-shooting police officer is being hailed as a hero by China's state media for helping to save lives in the Kunming attack by gunning down and killing four of the eight knife-wielding assailants within 15 seconds and seriously wounding another.
A report by the Legal Daily newspaper and a video clip carried by state broadcaster CCTV on Monday identified the officer by the pseudonym Zhang Jun.
In them, he said he and three Swat officers arrived on Saturday about 15m from the bloody scene at the train station and about 10 minutes after the attackers had begun stabbing people, killing 29 and injuring more than 140.
Although the officers fired two warning shots, five of the assailants continued the rampage and even tried to attack him, he said. A masked woman who led the charge was the first he shot dead.
"The one closest was less than 2m away," officer Zhang said. "If I had been slower by one second, I would be dead now." The other four continued to advance on him, he said.
"I didn't have time to think, I shot them as fast as I could," said the officer. "After I shot all five, the first one, also the nearest to me, stood up again and threw a knife at me. Luckily, I tilted my head."
When asked if he feared for his life, he said: "Being a police officer is an honourable job. Most times, it's peaceful. But when there is danger and the people need our help in striking against terrorists, we have to lead the charge."
The heroic tale of officer Zhang seems to match an account by travel agency owner Chen Yugui, 50, on Sunday night in Kunming.
He told The Straits Times that he had helped police officers chase five of the eight attackers and witnessed the Swat officers shooting them at a traffic junction after they refused to surrender despite the warning shots.
But Hong Kong-based observer Barry Sautman said the emergence of a heroic officer should be viewed in the light of lingering questions in China about possible failures in gathering intelligence that might have prevented the attack.
"In highlighting the actions of the Kunming Swat team member said to have killed four attackers," he said, "the government may want to show that there was also successful resistance to terrorists and to put a human face on that resistance.

Get a copy of The Straits Times or go to straitstimes.com for more stories.