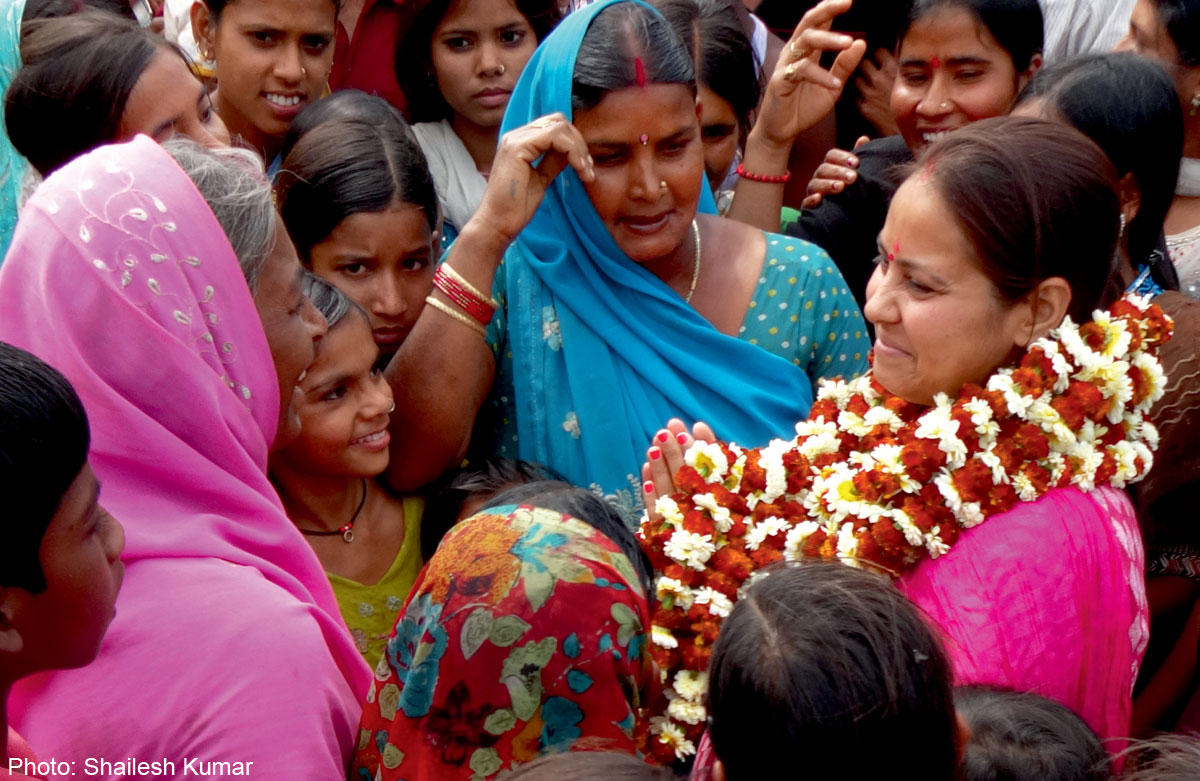 When Indian regional chieftain Lalu Prasad Yadav, 65, of the Rashtriya Janata Dal announced that his daughter Misa Bharti would fight parliamentary polls in the eastern state of Bihar, at least one senior party leader quit in protest against the dynastic politics.
Still, Ms Bharti, 38, is now hoping to win the seat of Pataliputra to carry on the legacy of her father, one of India's most colourful politicians known for his quick wit but barred from contesting any elections after being convicted of corruption last year.
Every morning, Ms Bharti leaves home to campaign and to try and revive her father's party, which is in a close alliance with the ruling Congress party.
"I feel honoured to carry forward the legacy," she said.
Her husband, Mr Shailesh Kumar, 38, an entrepreneur who is on the campaign trail with his wife, admits that a good portion of the crowd that shows up at rallies does so partly out of curiosity about his wife, the eldest of seven children.
"The advantage of the parents' legacy works both ways. You get a head start but you have to perform. There is a lot of pressure on her but she is doing quite well," said Mr Kumar.
In Bihar, yet another regional leader, Mr Ram Vilas Paswan of the Lok Janshakti Party, a regional party, is grooming his son, actor-turned-politician Chirag Paswan, to take over.
India is undergoing a nine- phase national election, with the seventh round of polling having taken place on Wednesday in nine states, including big states Punjab, Bihar and Uttar Pradesh. There are two more rounds on May 7 and 12.
With voting due to end soon, opinion polls show that the Hindu nationalist Bharatiya Janata Party (BJP) is ahead and likely to form the next government.
The Congress trails in second place in a massive election involving 814 million voters, including 100 million first-time voters.
Among the political parties undergoing generational change, the most well-known is the Congress, for its powerful Gandhi-Nehru dynasty that has given the country three prime ministers.
Scion Rahul Gandhi, 43, made vice-president of the party last year, is taking over the reins from his 67-year- old mother Sonia. Many believe the introduction of the next generation reflects the country's demographic changes.
"Yes, there are more political heirs in these elections. There is also a demographic shift taking place in the country and political parties have realised a new generation has arrived. So it is a good time for sons and daughters to be taking over," said Dr N. Bhaskara Rao, of the Centre for Media Studies in Delhi.
According to rough estimates, there are at least four dozen sons and daughters of politicians from different parties contesting these elections, with less than a dozen making their political debut.
Even the BJP, which has accused the Congress of dynastic politics, is not completely immune. Ms Poonam Mahajan, 33, the daughter of late senior BJP leader Pramod Mahakan, who was shot dead by his brother in 2006, is contesting for the first time in Mumbai South Central.
Mr Jayant Sinha, 50, the son of former finance minister Yashwant Sinha, 76, is contesting in his father's ward of Hazaribagh in eastern India.
Within the Congress party, finance minister P. Chidambaram, 68, has handed over his constituency of Sivaganga in the southern state of Tamil Nadu, where he has contested seven times and won, to his son Karti, 42.
Mr Chidambaram is not planning on retiring and would have faced a tough contest in his seat, which he won in 2009 by a slim margin. But he told reporters he was giving way to youngsters to "rejuvenate the Congress party".
Sometimes, the handing over of the baton can come a little late.
Also in Tamil Nadu, Mr M. Karunanidhi, 89, the leader of the Dravida Munnettra Kazhagam, anointed last year as his political heir his son Stalin, 60, who has been working for the party for decades.
As for how well the political heirs will do, Dr Rao said: "The brand name or family name helps them to get ahead and they have the money, power and also loyalties to the family in their chosen constituency. But later, they have to offer something new and appeal to the voter, otherwise they will not do well."
As senior journalist Paranjoy Guha Thakurta said, whether the political heirs succeed or not "depends not just on family background, but also on individual capabilities".
Names to watch
Here are the sons of some prominent names:
Karti P. Chidambaram, 42 Son of senior Congress leader and Finance Minister P. Chidambaram Fighting in Sivaganga, Tamil Nadu, won by his father seven times Studied law at Cambridge University
Muthuvel Karunanidhi Stalin, 60 Third son of Dravida Munnetra Kazhagam party chief M. Karunanidhi, who named him after Josef Stalin Started campaigning for the party at 14 and has been a four-time member of the state legislative assembly Elected Chennai mayor in 1996, deputy chief minister of Tamil Nadu from 2009 to 2011
Chirag Paswan, 32 Son of Mr Ram Vilas Paswan, leader of the Lok Janshakti Party, which is in alliance with the opposition Bharatiya Janata Party (BJP) Dropped out of college to try his hand at acting Starred opposite reigning Bollywood queen Kangana Ranaut in Miley Naa Miley Hum, which tanked at the box office His father is putting the entire party machinery behind his political debut in the seat of Jamui. BJP president Rajnath Singh held a rally for him
This article was published on May 2 in The Straits Times.
Get a copy of The Straits Times or go to straitstimes.com for more stories.