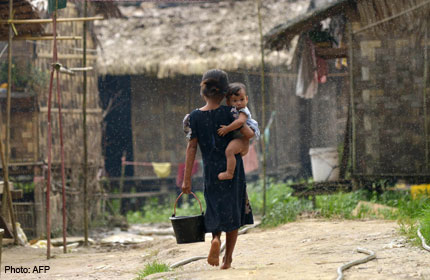 YANGON - Soaring rents in Myanmar's commercial capital Yangon have seen hundreds of poor families shunted from their homes, forcing them to turn to charity as their last buffer from life on the streets.
"Whole families came saying they had no place to live, nothing to eat, begging for help," said 61-year-old Khin San Oo, manager at a makeshift centre for the displaced in a Buddhist monastery in a scruffy suburb of the former capital.
Abbott Ottamasara offered free plots on 12ha of land at the Thabarwa - or "nature" - compound 16 months ago and word spread fast, drawing penniless families from Yangon and surrounding districts.
More than 2,400 families have now built shanties on the grounds an hour's drive from downtown Yangon. Hundreds of others, who cannot afford construction costs, are sheltering in a communal bamboo dormitory at the site, which is home to a meditation centre.
Surging demand for property as Myanmar undergoes rapid change has threatened to push more people from their homes, with rent hikes compounding low wages in and around the country's most populous city.
Figures from estate agents show rents have risen by 25 per cent this year for a small Yangon apartment, while sales prices have doubled or even trebled over the past two years in some neighbourhoods.
Madam Tin Tin Win, 57, said she was forced to move to the compound with her daughter, son, two grandchildren and husband, after the family was asked to pay six months in advance - around US$300 (S$381) - to renew the lease on their property.
"Our rent went up several times... we couldn't afford to stay in our house. That's why we had to move here," she said, adding that she was secure, if uncomfortable, in the cramped new lodgings.
"My daughter said she will keep us here for a while, because she can't afford anywhere else," she said wiping away tears.
The price of land in prime areas of Yangon - a city with poor transport links, few modern condominiums and irregular electricity and Internet access - has skyrocketed.
It could cost up to US$700 per sq ft, several times higher than glitzy Bangkok.
While some - including major international organisations and companies - are willing to cough up, many also fear the high costs are putting off investors and creating a dangerous bubble.
"The whole world now knows that the land price here (in Yangon) is very expensive," said Mr Than Oo, 64, managing director of Mandaing real estate company.
Families have been forced out to satellite towns because of the high rents, he said, urging the "stabilisation of the real estate market".
In an effort to cool the market, the government has raised land taxes and has built some low-cost housing in the city suburbs - but critics said the apartments still cost around US$20,000, which is well out of reach of most people.
Monks at the monastery have been unable to turn away the cascade of new arrivals.
But staff said the site is now full, leaving the abbot looking around for donors with space to spare for the needy.

Get a copy of The Straits Times or go to straitstimes.com for more stories.