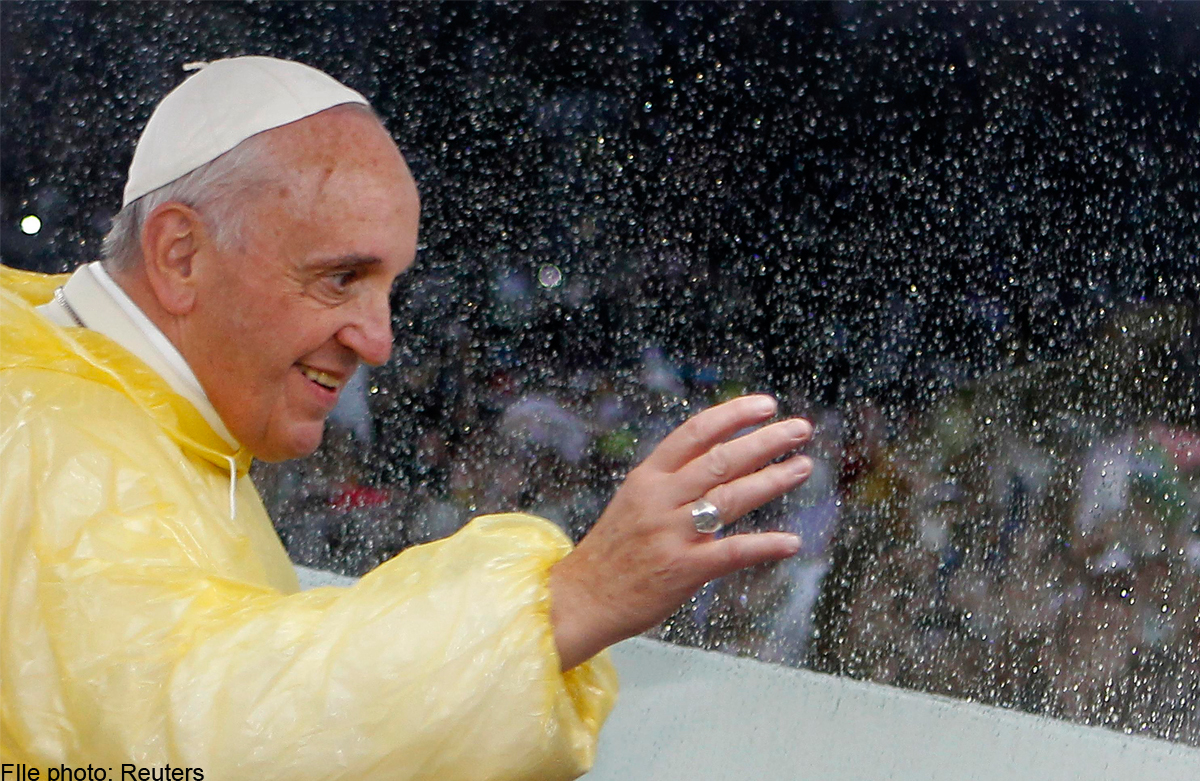 MANILA, Jan 19 (Reuters) - Pope Francis left the Philippines on Monday, ending a week-long trip to Asia that culminated with a rain-soaked Mass for about seven million people in the capital of Asia's most populous Catholic nation, the largest-ever crowd for a papal event.
Vatican officials have said between six million and seven million people attended Sunday's Mass in Manila's Rizal Park and surrounding areas, eclipsing the roughly five million worshippers who flocked to a Mass by Pope John Paul in the same park 20 years ago.
The Pope's plane took off from Manila at about 10 a.m. local time (0200 GMT) in clear blue skies, a stark contrast to the stormy weather since he arrived on Thursday.
Huge crowds greeted Francis at all his stops in the Philippines despite the bad weather. Thousands lined the streets along the papal route to the airport on Monday, some shouting "Viva Santo Papa!" and "Pope Francis, we love you!"
About a thousand schoolchildren danced and sang as he boarded the plane taking him back to Rome.
Several of Francis's scheduled events in the Philippines were cut short by torrential rains and high winds, particularly on Saturday when he went to comfort survivors of Typhoon Haiyan that killed at least 6,300 people in the central Philippines in November 2013.
The Pope and the millions of faithful wore plastic ponchos during Sunday's rain-soaked Mass.
As well as comforting typhoon survivors in the Philippines, Francis urged the government to tackle corruption and poverty, and pleaded for the world to hear the cries of poor, hungry, homeless and abused children.
Francis also took another swipe at the government's population control efforts, saying the family was under threat from "insidious attacks and programmes contrary to all that we hold true and sacred".
Before the Philippines, the Pope spent two days in Sri Lanka, where he preached reconciliation between different religions after the predominantly Buddhist country's 26-year civil war that ended in 2009 and killed up to 100,000 people.