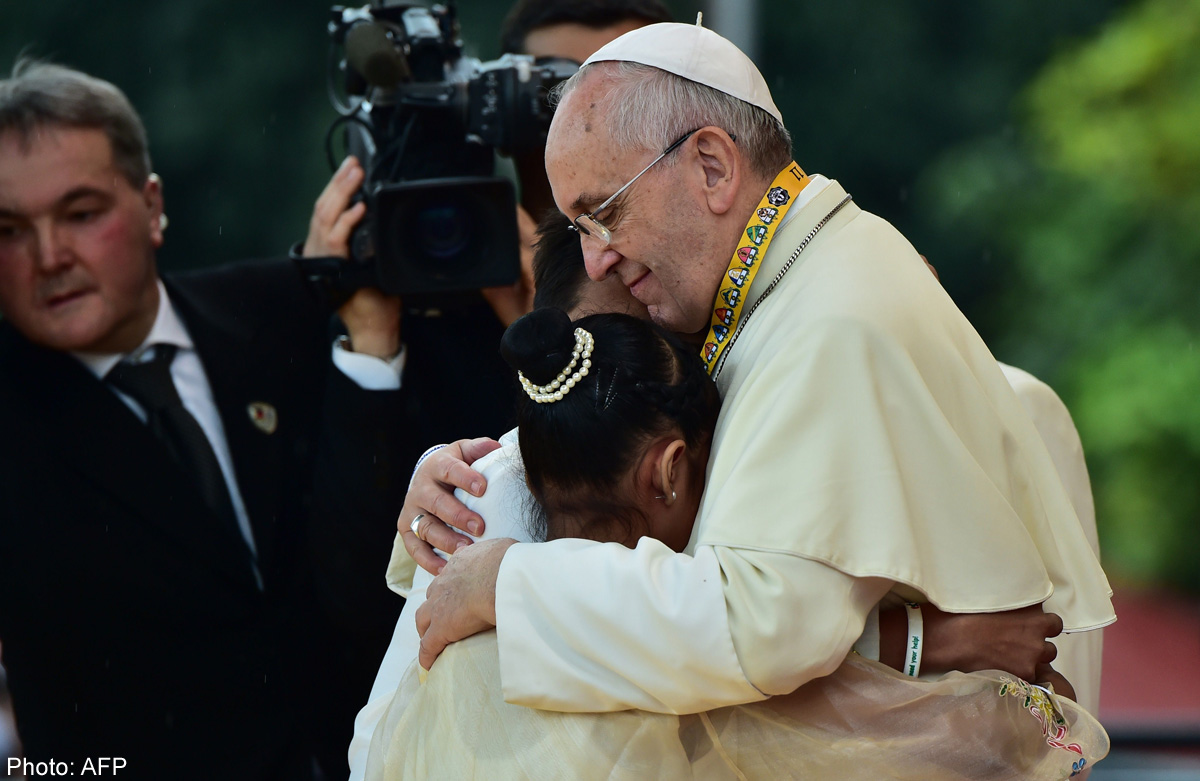 An emotional Pope Francis, moved by the tears of an abandoned child, said on Sunday the world needed to "learn how to cry" over the plight of the millions of poor, hungry, homeless and abused children.
During a rally with young people, 12-year-old Glyzelle Iris Palomar asked him: "Many children are abandoned by their parents. Many of them became victims and bad things have happened to them, like drug addiction and prostitution. Why does God allow this to happen, even if the children are not at fault? Why is it that only a few people help us?"
The girl, who was rescued and found shelter in a Church-run community, broke down in tears and could not finish her prepared welcome. The Pope hugged her and later put aside most of his own prepared speech to respond. "She is the only one who has put forward a question for which there is no answer and she was not even able to express it in words but rather in tears," he said, visibly moved.
"Why do children suffer?" the Argentine pope said, speaking in his native Spanish. An aide translated his words from his native Spanish into English for the crowd of about 30,000 young people on the grounds of a Church-run university. "I invite each one of you to ask yourselves, 'Have I learned how to weep, how to cry when I see a hungry child, a child on the street who uses drugs, a homeless child, an abandoned child, an abused child, a child that society uses as a slave'?" he said.
Children can be seen living on the streets of the Philippine capital, like in many poor countries in Asia, surviving by begging and picking through garbage in vast dumps.
The United Nations says 1.2 million children live on the streets in the Philippines. According to the Child Protection Network Foundation, 35.1 per cent of children were living in poverty in 2009, the last year such data was available.
Nearly 33 per cent of Filipinos live in slums.
Pope Francis noted there were more men than women in the crowd and that it was a little girl who was able to move everyone. "Women have much to tell us in today's society. At times we are too 'machista' and don't allow room for women," he said, using the Spanish term for male chauvinist.
The crowd laughed. "But women are capable of seeing things with a different angle from us, with a different eye, and pose questions that we men are not able to understand ... so when the next pope comes to Manila, let's please have more women among you," he said.
The Pope spoke at the university as huge crowds converged on a Manila park to see him wrap up his Asian trip with an outdoor Mass expected to draw one of the largest crowds in Philippine history later on Sunday. Organisers say as many as 6 million people might attend the afternoon service at Manila's Rizal Park, more than about 5 million who flocked to a Mass there by Pope John Paul 20 years ago in Asia's largest Catholic country.
The faithful began arriving at the sprawling park on Saturday night and police expect the crowd to flow over into surrounding areas. About a dozen people were injured in a minor stampede when people rushed to get into the park, Johnny Yu of the Manila city disaster office said in a radio interview. He said some people jumped over steel railings and some concrete barriers were breached.
Earlier at the university, the Pope asked for prayers for a 27-year-old volunteer who was killed by scaffolding that collapsed in strong winds during his visit on Saturday to the central Philippines city of Tacloban. He went there to comfort the victims of Typhoon Haiyan, which killed at least 6,300 people in November 2013.