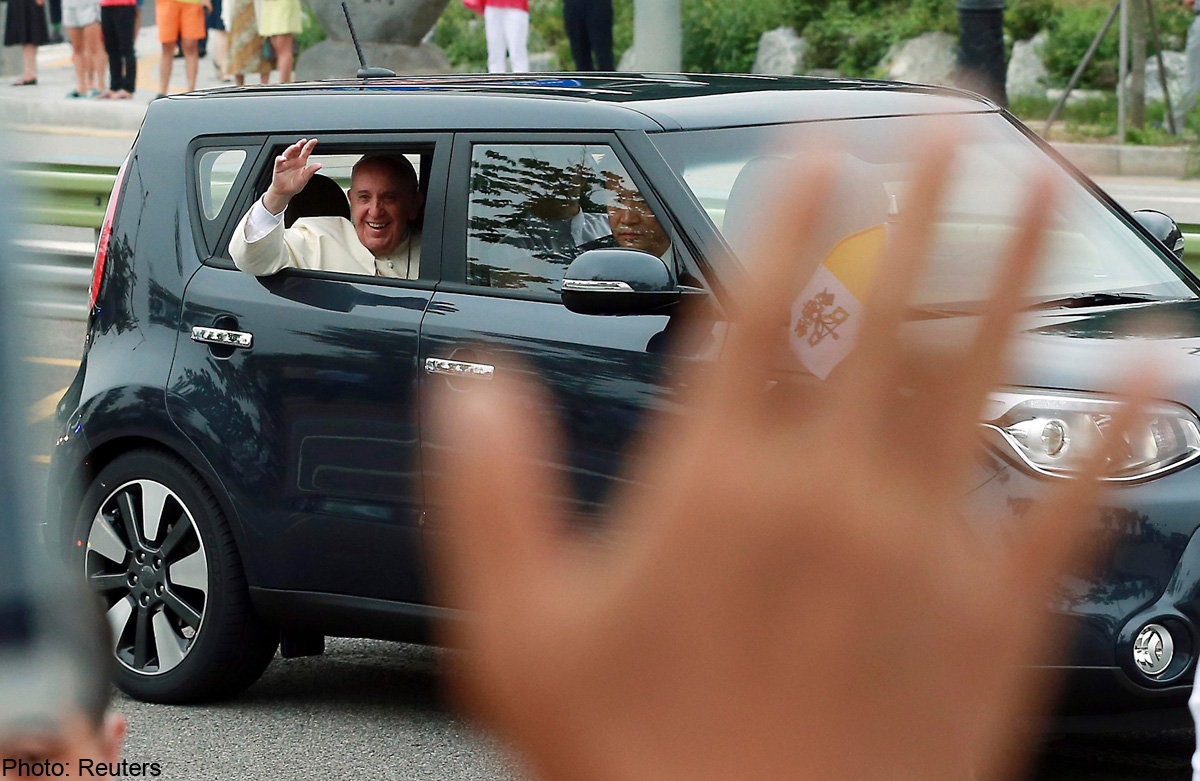 SEOUL - Pope Francis sent an unprecedented goodwill message to China's leadership on Thursday, offering his blessings to a nation mired in a long-running battle with the Vatican for control of its Catholic community.
The pontiff, who was flying to South Korea on his first papal visit to Asia, took advantage of protocol that sees him send messages to the leaders of any countries he flies over.
"Upon entering Chinese airspace, I extend best wishes to your excellency and your fellow citizens, and I invoke the divine blessings of peace and wellbeing on the nation," he said in the radio message to Chinese President Xi Jinping.
When Pope John Paul II visited South Korea in 1989, Beijing refused to let his plane fly over China.
"We take note of Pope Francis's position," Chinese foreign ministry spokeswoman Hua Chunying said in a faxed response to AFP seeking comment on the message.
"China all along has retained sincerity toward improving China-Vatican relations," she said. "Furthermore, we continuously make active efforts in this respect.
"We are willing to continue making efforts with the Vatican to advance constructive dialogue and promote the process of improving bilateral relations." Chinese Catholics number 5.7 million according to official data and 12 million according to independent sources. They are divided between an official Church dependent on Communist authorities and an "underground" Church loyal to the Vatican.
Beijing and the Vatican have been at loggerheads since China severed ties with the Holy See in 1951.
The atmosphere worsened when in 1957 China set up its own Catholic Church administered by the atheist Communist government.
In March last year, China said it hoped the newly elected Francis would take a "practical and flexible" attitude, warning the Vatican against "interfering in China's internal affairs, including under the pretext of religion".
They remain firmly at odds over which side has the authority to ordain priests, and the Vatican's recognition of Taiwan is a perennial irritant for Beijing.
More than 50 million Christians in China are believed to pray at "underground" or "house" churches, which refuse to submit to government regulation.