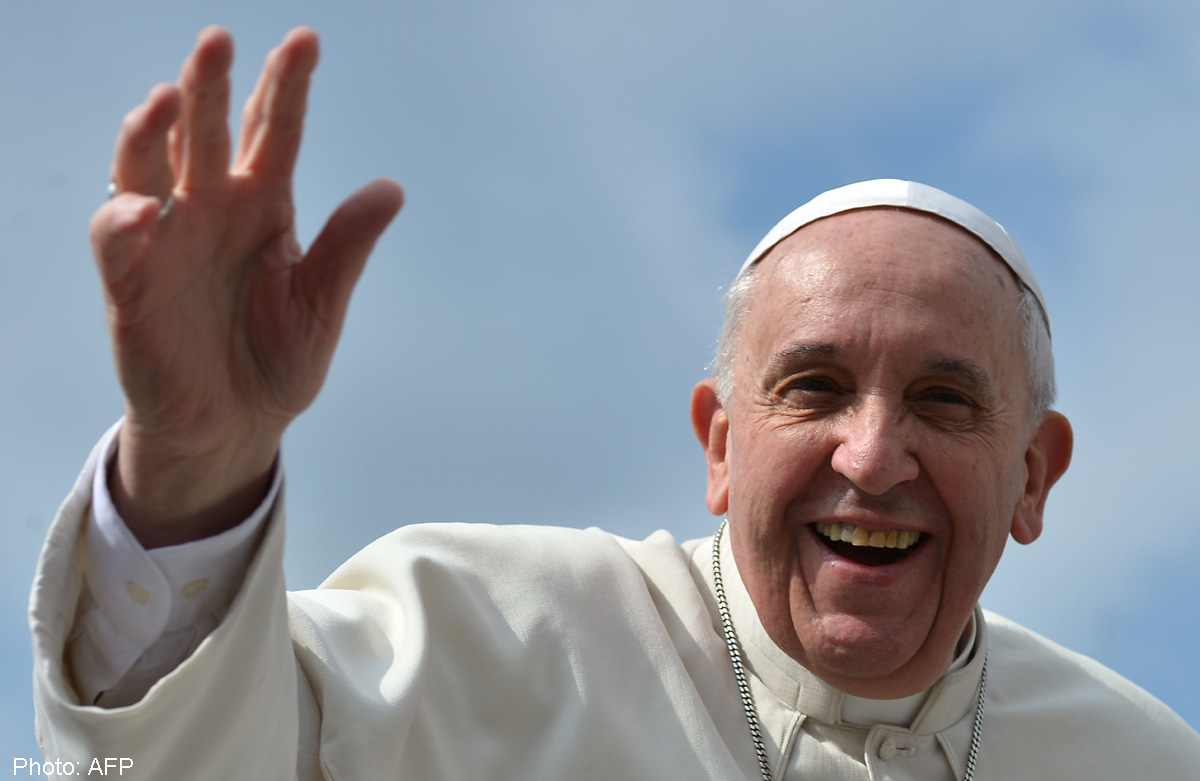 MANILA - While Pope Francis is the head of the Vatican City State, his "state visit" to the Philippines next year will be unlike that of other leaders.
Communications Secretary "Sonny" Herminio Coloma on Monday said the pontiff and President Benigno Aquino III are unlikely to explore the same topics that heads of state usually discuss.
"All of us realise that he is the head of the Catholic Church and the Philippines is a predominantly Christian country…We can infer that the common points of interest (of Pope Francis and President Benigno Aquino III) will converge along those lines and not on the usual agenda that are taken up by the President with other heads of state," he explained.
Asked about what the two heads of state will discuss during Pope Francis' visit to Malacañang, Coloma said it won't be about political matters.
"There is an opportunity for them to take up issues that are close to their hearts and I think that is their own call but as of this point we don't see ourselves as drawing any scenario that might involve political issues," he said.
Pope Francis will arrive in Manila in Jan. 15, 2015. He will visit Malacañang the next day before officiating a mass at the Manila Cathedral. On Jan. 17, he will visit Leyte to meet with survivors of Supertyphoon "Yolanda" and other calamities.
Meeting with Aquino, sisters
Upon his arrival at Malacañang at 9:15 a.m. on Jan. 16, the Pope will meet with Filipino officials.
Coloma said they have yet to announce the officials who will join Aquino in the Palace, especially since many are hoping to be invited. However, he said it was customary for Cabinet officials to be present.
On the other hand, Church officials who are expected to join the Papal delegation are Apostolic Nuncio to the Philippines Msgr. Giuseppe Pinto, Manila Archbishop Luis Antonio Cardinal Tagle, and Lingayen-Dagupan Archbishop Socrates Villages who is also the President of the Catholic Bishop's Conference of the Philippines.
After the singing of the national anthem and the hoisting of the flags of the two states, Pope Francis will proceed to the Reception Hall for the signing of the official guestbook of Malacañang. He will then be ushered into the Music Room for the courtesy call where Aquino's immediate family members, including his sisters, will be introduced to the Pontiff.
The visit will last for only an hour and a half since the Pope must leave at 10:45 a.m. for a mass at Manila Cathedral.