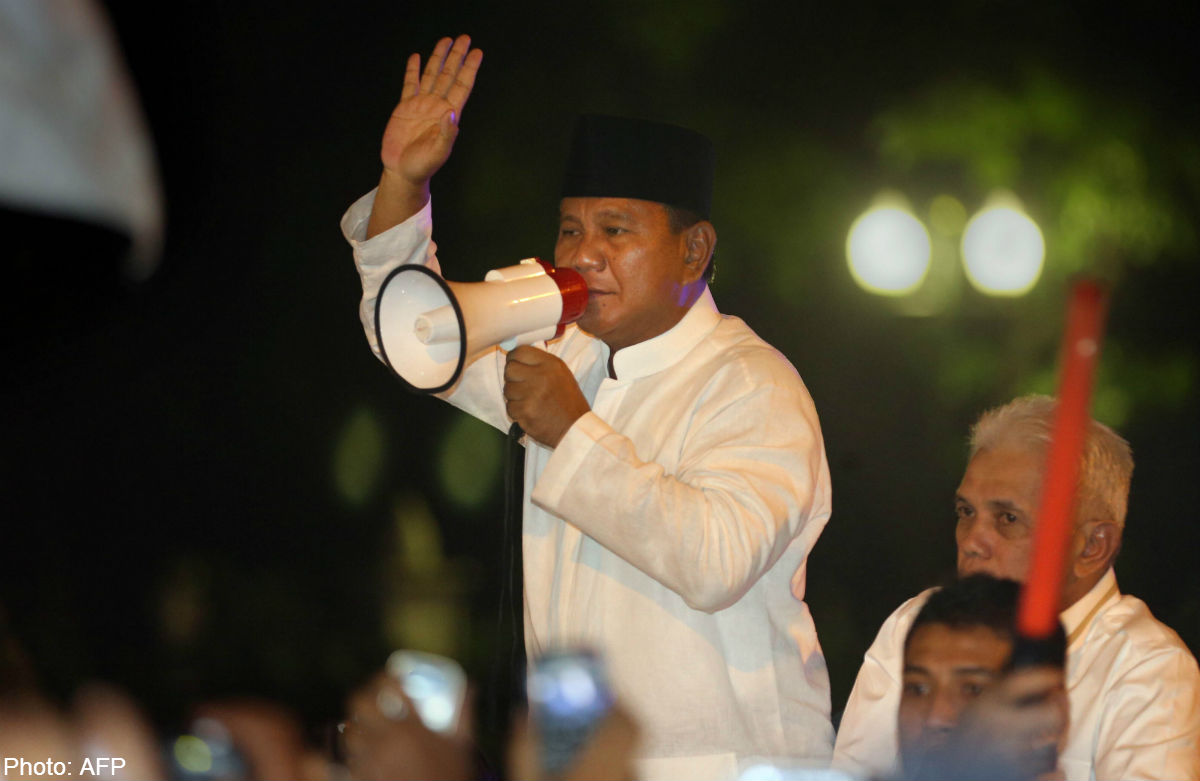 JAKARTA - Defeated presidential candidate Prabowo Subianto and running mate Hatta Rajasa last night filed a challenge to the election result at the Constitutional Court, but not before railing against the Election Commission (KPU).
In a YouTube video uploaded hours earlier, Mr Prabowo accused election organisers of being biased and brushing aside his team's protests during the vote tally, saying: "This election has failed, and if we accept its result, it means we approve of fraud."
Later, he told hundreds of supporters outside the court: "Brothers, we continue with our struggle, the struggle to save Indonesia. We want real democracy, we want justice and are willing to risk everything."
Mr Hatta reminded the crowd their struggle had to be done peacefully, in line with the law.
The nine-judge court will begin hearing the case in the week of Aug 4, after the Hari Raya break, and has up to 14 working days to make a decision, which will be final and binding. It can order a recount or repeat voting if it finds systematic, large-scale fraud that altered the result.
Even though many political observers say this is very unlikely, given president-elect Joko Widodo's sizeable 8.4 million vote margin, Mr Joko's lawyers and KPU say they have prepared evidence to defend themselves in court.
The KPU had, on Tuesday, declared Mr Joko and his running mate Jusuf Kalla the winners of the July 9 election with 53.15 per cent of the vote, or 71 million votes, against 46.85 per cent or 62.6 million votes for Mr Prabowo and Mr Hatta.
The outgoing government says it will wait for the court ruling before formally discussing the leadership handover. President Susilo Bambang Yudhoyono's term ends on Oct 20.
Mr Prabowo's team yesterday filed their papers shortly before the deadline of 9.04pm, or 72 hours from the time of the results. They took along what they said was evidence of alleged fraud at 52,000 out of the 480,000 polling stations, affecting up to 21 million voters, and said they had 500 witnesses.
In his video, Mr Prabowo also alleged "foreign intervention" in the election, and told supporters that like world renowned civil rights leaders - India's Mahatma Gandhi and America's Martin Luther King - "we will prevail".
Court chief Hamdan Zoelva said the court would be independent and transparent in hearing the election dispute, and that all sessions will be streamed live on the court website.
zakirh@sph.com.sg

This article was first published on July 26, 2014.
Get a copy of The Straits Times or go to straitstimes.com for more stories.