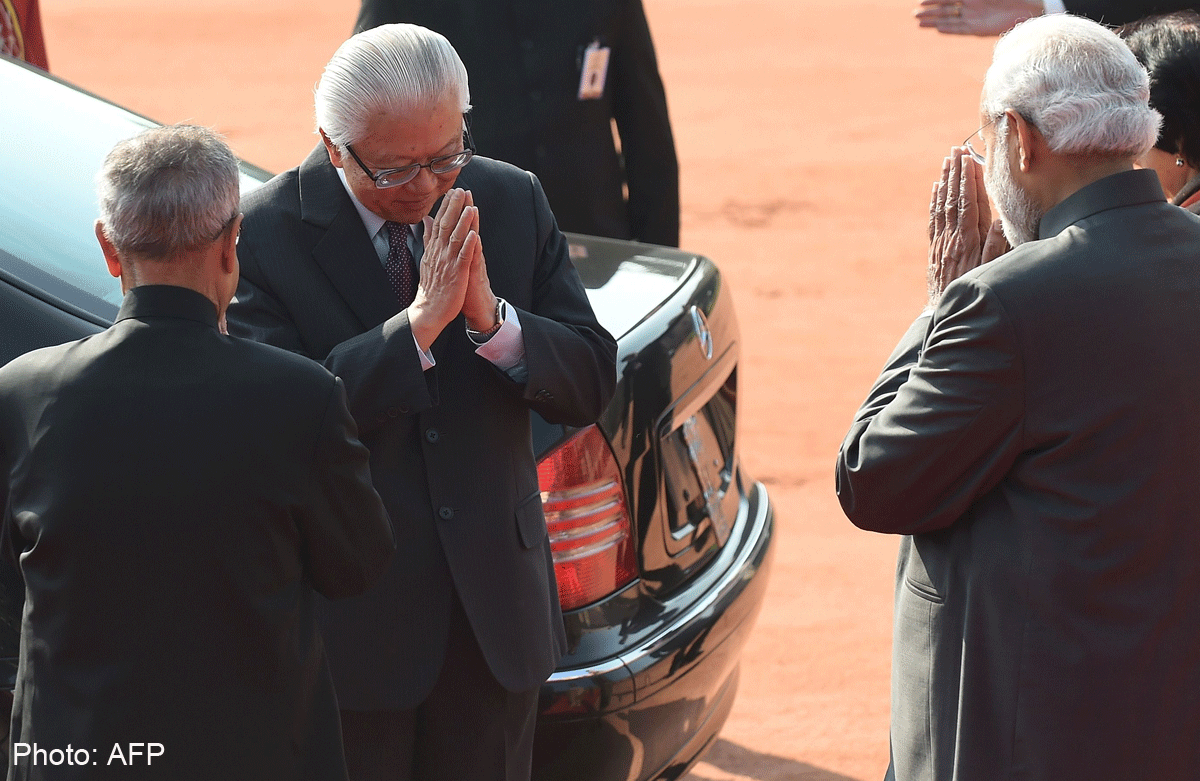 SINGAPORE showcased the unique and unusual in its heritage, ranging from cultural artefacts to culinary delights, in India's capital yesterday.
Visiting President Tony Tan Keng Yam unveiled a Peranakan exhibition with heirlooms from Singapore and attended a one-day food festival where favourites such as popiah and rojak were served.
Dr Tan also launched a book on the history and future of Singapore-India relations, to commemorate 50 years of ties between the two countries.
He is on a state visit to India to mark the occasion and his counterpart, President Pranab Mukherjee, will visit Singapore later this year.
The evolution of the two nations' relationship over the years is traced in the book titled Singapore And India: Towards a Shared Future.
Prime Minister Lee Hsien Loong and India's Prime Minister Narendra Modi wrote forewords for the 200-page book, commissioned by Singapore's Ministry of Foreign Affairs and published by the Institute of South Asian Studies.
Said the institute's director Tan Tai Yong: "The book basically traces (the Singapore-India relationship) from the early days of the pre-colonial period right up to the present, and is presented not in dry and terse academic format but in a way that will appeal to a range of people."
Later, at New Delhi's National Museum, Dr Tan opened the exhibition on The Peranakan World: Cross-Cultural Art From Singapore And The Malacca Straits.
It tells the story of how Chinese traditions blended with influences from the Malay world and the Indian Ocean in the late 19th and 20th centuries to produce the unique Peranakan culture.
More than 100 artefacts from Singapore's Asian Civilisations Museum and Peranakan Museum are on show for two months.
Said Dr Tan at the opening: "The Singapore story, much like the Peranakan story, is a fusion of cultures, some of which were strongly influenced by India."
"Not many people realise how close the historical links between Singapore and India are."
He noted that Sir Stamford Raffles founded Singapore in 1819 with a contingent that included Indian officials and businessmen, as well as 120 men from the Bengal Native Infantry.
Also, Singapore was governed by the British through India until 1867, and both countries share similar legal and administrative institutions to this day.
"Even before this modern recorded history, India's great influence throughout South-east Asia from the first century onwards cannot be understated," he said.
Dr Tan hoped cultural exchanges like the exhibition would continue, to enhance understanding between people on both sides.
In the evening, Dr Tan mingled with the Singapore community here over typically Singaporean fare that includes chicken curry, chicken rice and roti prata.
Food binds both countries historically, culturally and socially, he said at the gathering at the Hyatt New Delhi.
He also thanked them for playing a crucial role in strengthening ties between Singapore and India through their work and the links they have made.
He said their presence here encourages more Singapore businesses to come to India.
"Globalisation has made our world a smaller place. Singapore, as a small country, counts on our citizens to further our relations with foreign friends," he said.

This article was first published on Feb 11, 2015.
Get a copy of The Straits Times or go to straitstimes.com for more stories.