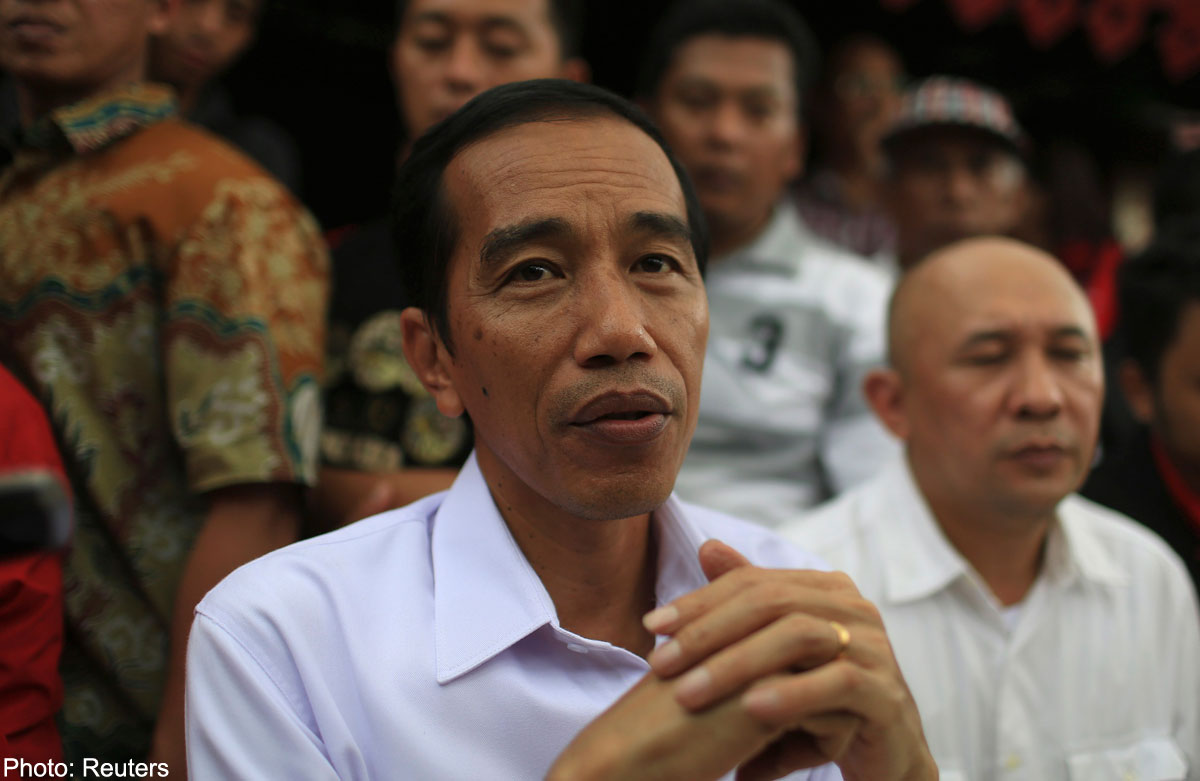 INDONESIA - Online reports and social media posts have in recent days sprung up claiming Jakarta governor and presidential front -runner Joko Widodo of the Indonesian Democratic Party - Struggle (PDI-P) was really the son of tycoon Oei Hong Leong.
Last Thursday, a mock obituary of Mr Joko - better known as Jokowi - began circulating on Facebook, Twitter and Blackberry messenger service.
What stood out was the Chinese lettering above his name - Ir. Herbertus Joko Widodo (Oey Hong Liong) - as well as the notice beneath it saying he would be cremated.
The aim was clear: Cast doubt among ill-informed voters about Mr Joko's ethnicity, faith and loyalties, in a bid to sway support away from him by playing on communal sentiments.
These smears have been shot down. But such attempts to incite racial sentiment have begun to surface and become more noticeable as the July 9 presidential election approaches, and there are fears they could rear their ugly head as campaigning picks up next month for what many expect to be a close contest between Mr Joko and former special forces general Prabowo Subianto.
The latest developments come as nationalistic slogans gain resonance, and calls to reject "asing dan aseng" - or foreign and Chinese - intervention in the election become more common on social media.
Indonesia officially abolished the ethnic distinction between indigenous and Chinese citizens after the fall of president Suharto. In recent years, however, several politicians and their supporters have played the ethnic card.
Many of the recent attacks take liberties with the truth, among them: Jokowi is Joko Oei, and he was baptised Herbertus Handoko, never mind that he has gone on a pilgrimage to Mecca.
The identity of the groups behind these slurs is unclear, but the smears have been widely circulated by hardline groups and opponents of Mr Joko.
Financial analyst Lin Che Wei, who heads the effort to revitalise Jakarta's historic Old Town, rebutted the attacks on Twitter, posting: "Jokowi is 53, Oei Hong Leong 66… If rumours that Jokowi is Oei Hong Leong's son then OHL had a child since he was a teen! What nonsense!"
Mr Oei was born in Indonesia and is now one of Singapore's richest men.
Asked about these attacks on him, Mr Joko described them as "brutal and excessive".
"We'll leave it to our legal team," he told reporters.
University of Indonesia sociologist Thamrin A. Tomagola told The Sunday Times that such rhetoric was a sign of panic ahead of what is likely to be a heated contest.
"These are non-issues, but they show how opponents will resort to anything to take you down," he said.
Accusations have also been hurled that suggest Mr Joko is beholden to foreign interests and Chinese-Indonesian conglomerates, which continue to play a significant role in the Indonesian economy.
Mr Joko has said that equitable growth will be a key focus for him if he gets elected, but that the country also has to remain open to foreign investment, especially in sectors where it lacks the right skills needed to grow the economy.
Asked about the false obituary, national police chief Sutarman told reporters last Friday night that police will monitor the issue and urged the public to report other cases they come across.
Mr Joko's main rival, Mr Prabowo, has not been spared either, as netizens question his family's business dealings and the extent of their nationalism.
Some have played up the religion card by highlighting the fact that Mr Prabowo's mother is a Christian, as is his brother.
Others have circulated a 2012 photo of Mr Prabowo's meeting with Prime Minister Lee Hsien Loong in Singapore - when Mr Prabowo delivered a lecture - in response to criticisms that Mr Joko regularly met foreign envoys. The latest issue of the fortnightly hardline Islamic newspaper, Suara Islam, had carried a report on Mr Joko's meetings with foreign diplomats, headlined: "Jokowi is a stooge of the United States and the Vatican". It also drew attention to a visit by former Malaysian prime minister Mahathir Mohamad to PDI-P chairman Megawati Sukarnoputri last month, where Mr Joko was present, claiming Ms Megawati released the islands of Sipadan and Ligitan to Malaysia when she was president from 2001 to 2004.
"Perhaps if Jokowi was elected, Malaysia will get more 'presents' of other islands from Indonesia," the piece said, neglecting to mention that the International Court of Justice had ruled on the two islands off Sabah after a hearing involving both countries.
This article was published on May 11 in The Straits Times.


Get a copy of The Straits Times or go to straitstimes.com for more stories.