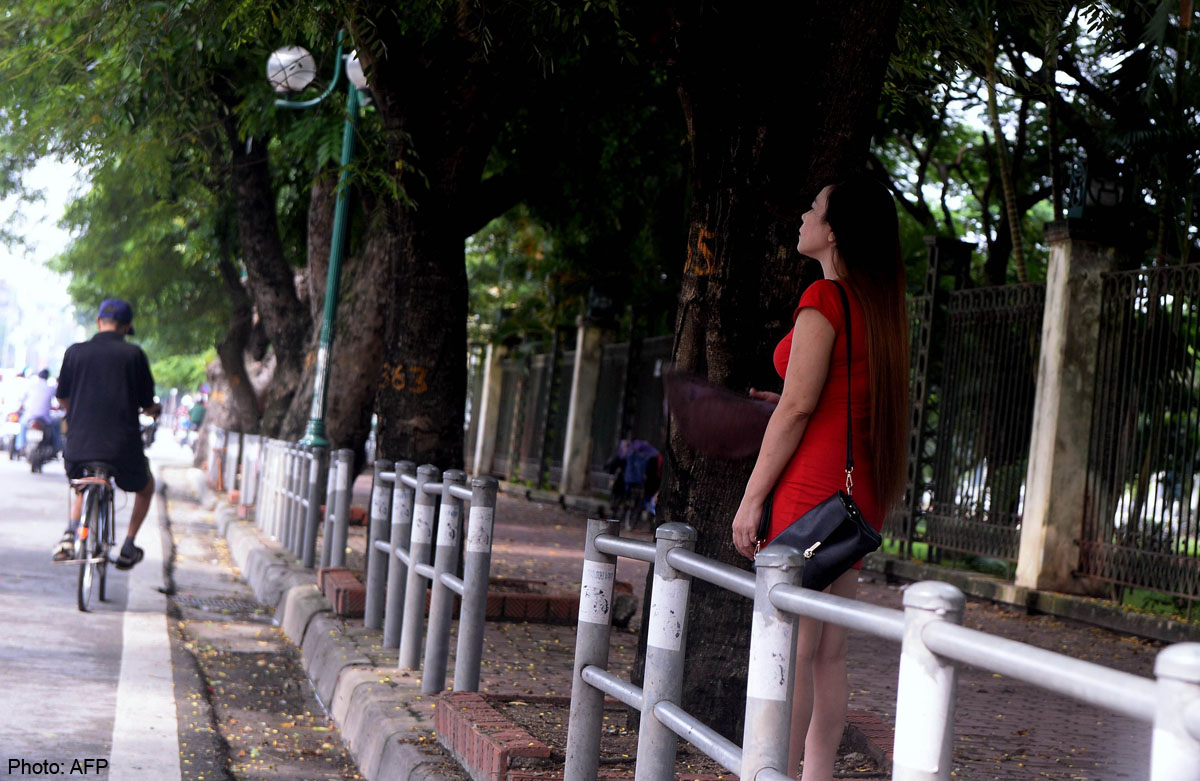 HANOI - For Vietnamese sex workers like Oanh Do Thi, being caught touting for business used to carry a long stint in forced "rehabilitation", but as fines replace detention, many detect a shifting attitude towards the world's oldest profession.
Last year, Vietnam replaced compulsory rehabilitation for sex workers with fines of between US$25 (S$32) and US$100, releasing hundreds of people from detention centres across the country.
Ms Oanh (not her real name), 32, who was held for 18 months in a detention centre, said the legal move points to a wider liberalising attitude towards sex work in the communist nation.
"Society today is much more tolerant of people like me," said Ms Oanh, who has given up prostitution herself but remains in sex work, running a massage parlour in the capital.
Prostitution is illegal in Vietnam, but hundreds of thousands of sex workers ply their trade in a deeply conservative society which is still dominated by Confucian social mores.
Prostitution is considered a social evil, along with drug addiction and homosexuality.
But in recent months, a fierce debate over whether to legalise and regulate the sex industry has sprung up online and in the official press, airing views that have been considered taboo.
Even the National Assembly is due to address the issue at its next session next month.
Researchers estimate that there are around 200,000 sex workers in Vietnam, of whom up to 40 per cent are believed to be HIV positive.
In Ho Chi Minh City, police statistics show there are at least 30,000 establishments linked to the sex trade, with some involving criminal gangs too.
"As we are not able to eradicate prostitution, we will have to manage it," said Khiet Trinh Thi, a Hanoi-based parliamentarian. "We shouldn't encourage the sex trade, but we have to look at this issue in the face. We need to save women from mafia networks."
The debate over how to tackle prostitution, however, remains sharply polarised.
The authorities in Ho Chi Minh City last year proposed experimental "red zones" where prostitution would be allowed or at least tolerated.
But in Hanoi, the authorities have suggested publicly disclosing the names of patrons caught by the police to deter others from buying sex.
Despite high-profile "clean-up" campaigns, prostitutes operate openly along major roads in the city.
While objections to prostitution abound, sociologists urge a pragmatic response to an age-old industry.
"We are totally incapable of controlling prostitution," said Hong Khuat Thu, director of the Institute for Social Development Studies. "We must not penalise it... I support legalisation because it would help to combat trafficking in women."
While Vietnamese children continue to learn in school that the "social evil" of prostitution destroys moral and cultural values , the taboo around sex will remain an obstacle to legalisation.
For now, the government line is that "prostitution cannot be considered a job", according to Hien Le Duc, deputy director in the labour ministry, who is in charge of the fight against vice.
"Legalisation is really a great challenge for us," she said, adding that "this issue is still too sensitive" in Vietnam.