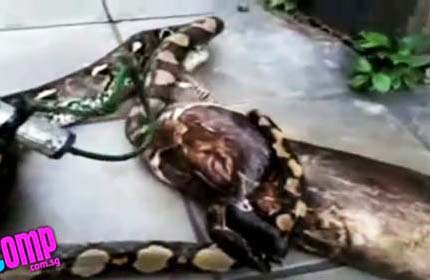 Warning: Graphic images and video. Viewer's discretion is advised.
Ever get that feeling of bloatedness after eating too much? Snakes experience the same thing too, as seen in this unusual video of a python regurgitating a fully-grown dog.
According to an article on citizen journalism website Stomp, the clip was recorded by an onlooker on the streets of Bangkok.
'It seems like a typical case where the animal has eaten something because it's hungry, but with snakes, once they have eaten a large item they can't really move very well," said Australian Reptile Park reptiles and spiders supervisor, Julie Mendezona.

Visit STOMP for more stories.