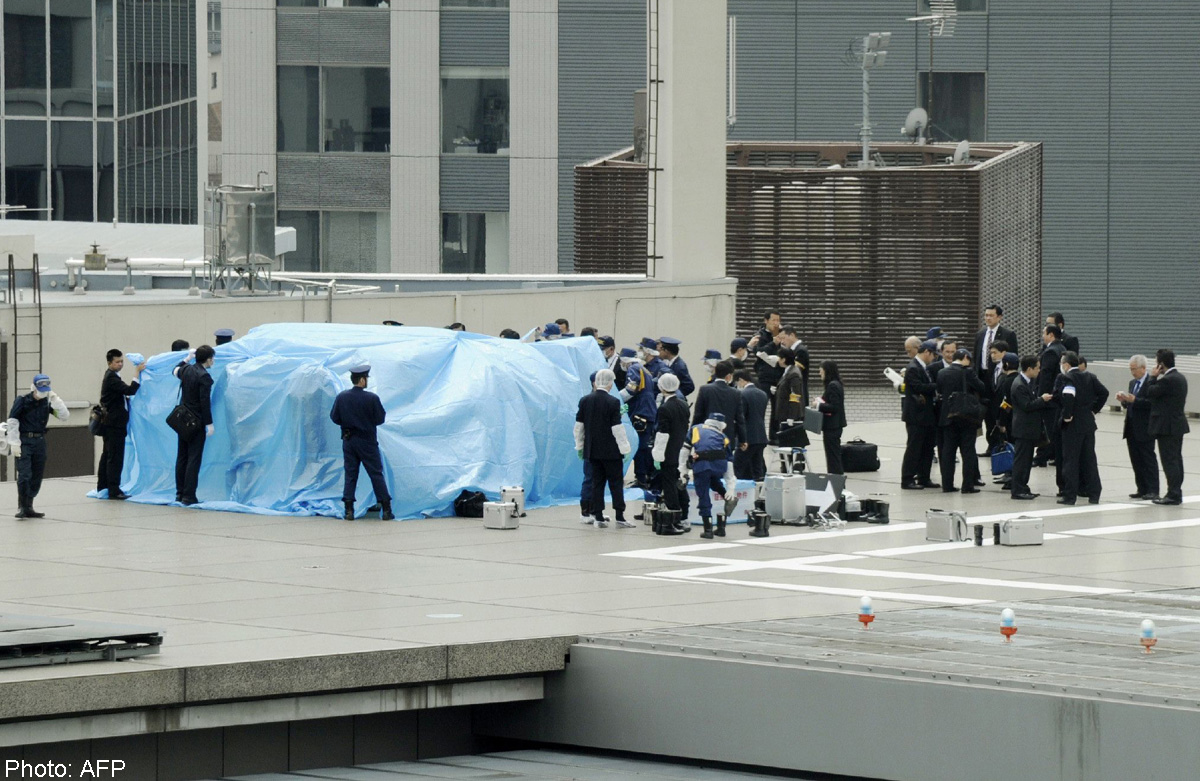 TOKYO - A small drone bearing traces of radioactivity was found on the roof of the Japanese prime minister's office Wednesday, apparently having been flown there, according to police and the media.
Staff at the official residence - known as "the Kantei" - discovered the 50-centimetre craft on top of the five-storey structure in central Tokyo mid-morning, according to a spokesman at the Tokyo Metropolitan Police.
The four-propeller drone had what appeared to be a camera and a plastic container attached, the spokesman said.
Investigators detected very low levels of radiation from the container, which was marked to indicate it contained radioactive substances, Jiji Press and the Mainichi Shimbun said.
The radioactivity, possibily from cesium, was too low to pose any risk to human health, said national broadcasater NHK.
Cesium was among the materials dispersed into the environment at Fukushima after nuclear reactors went into meltdown in the aftermath of the March 2011 tsunami.
Aerial footage showed dozens of police officers swarming over the roof and helipad of the modern, glass-facade Kantei, with the drone covered by a blue tarpaulin.
The drone was later removed in a large plastic case.
Investigators earlier suspected the machine was carrying a flare, but it later transpired this was a battery pack, reports said.
Prime Minister Shinzo Abe, who is in Indonesia, works at the building during the day, and commutes from his own private home roughly 15 minutes away.
The use of drones is becoming more common in Japan, particularly for aerial surveying, photography and video shoots.
There are currently no legal restrictions on the use of drones, although chief cabinet secretary Yoshihide Suga said Wednesday the government was activley examining the issue.
In January, a hobby drone crashed into the White House gardens, sparking a Secret Service investigation.
The operator was an intelligence agency employee who lost control of his friend's device.
US prosecutors said they would not pursue criminal charges, while the Federal Aviation Administration has begun a review of the mishap for possible administrative action.