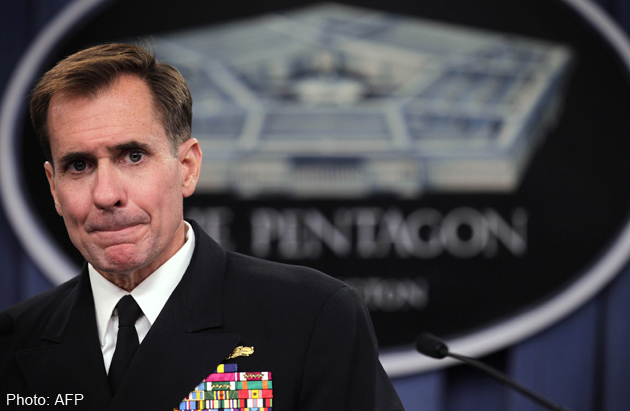 The historic meeting between the leaders of China and Taiwan was welcomed by Washington, even if there remains little consensus here on whether the summit will increase long-term stability in the region.
Since news emerged last week that Chinese President Xi Jinping and Taiwanese President Ma Ying-jeou would meet in Singapore, the Obama administration has been making remarks of support.
That was no different after the meeting took place last Saturday, with State Department spokesman John Kirby issuing a statement repeating many of the talking points made by the White House days earlier. "The United States welcomes the meeting between leaders on both sides of the Taiwan Strait and the historic improvement in cross-strait relations in recent years," said Mr Kirby, while reiterating the US' continued commitment to its "one China" policy.
"The United States has a deep and abiding interest in peace and stability in the Taiwan Strait."
Analysts say, however, the White House would certainly not view the meeting as an unqualified success. Given existing concerns in the US capital about what a likely win for the pro-independence Democratic Progressive Party (DPP) next year would mean for cross-strait ties, one worry is that Mr Ma might agree to something in private that his successor would never accept.
Said Dr Patrick Cronin, senior director of the Asia-Pacific security programme at the Centre for a New American Security: "The US supports cross-strait diplomacy but does not want a lame duck president to force political preconditions on his democratically elected successor."
Then there is the question of how Mr Xi's show of diplomacy will play if a DPP government appears uncooperative. It may be harder for Washington to support Taiwan if Beijing is presenting an amicable front and the DPP, lead by Ms Tsai Ing-wen, the presidential front runner, is not.
As Mr Douglas Paal, a former director of the American Institute in Taiwan, wrote in an article for the Carnegie Endowment for International Peace: "A two-leaders' meeting will be a very high bar for Tsai to jump to maintain the status quo."
He added that the US should also consider the meeting in the context of its Asia pivot. Mr Paal said the meeting is part of Beijing's attempt to counterbalance the US rebalance. "He (Xi) will have given China's always sceptical neighbours material reasons not always to resist Chinese preferences in deference to American interests."

This article was first published on November 9, 2015.
Get a copy of The Straits Times or go to straitstimes.com for more stories.