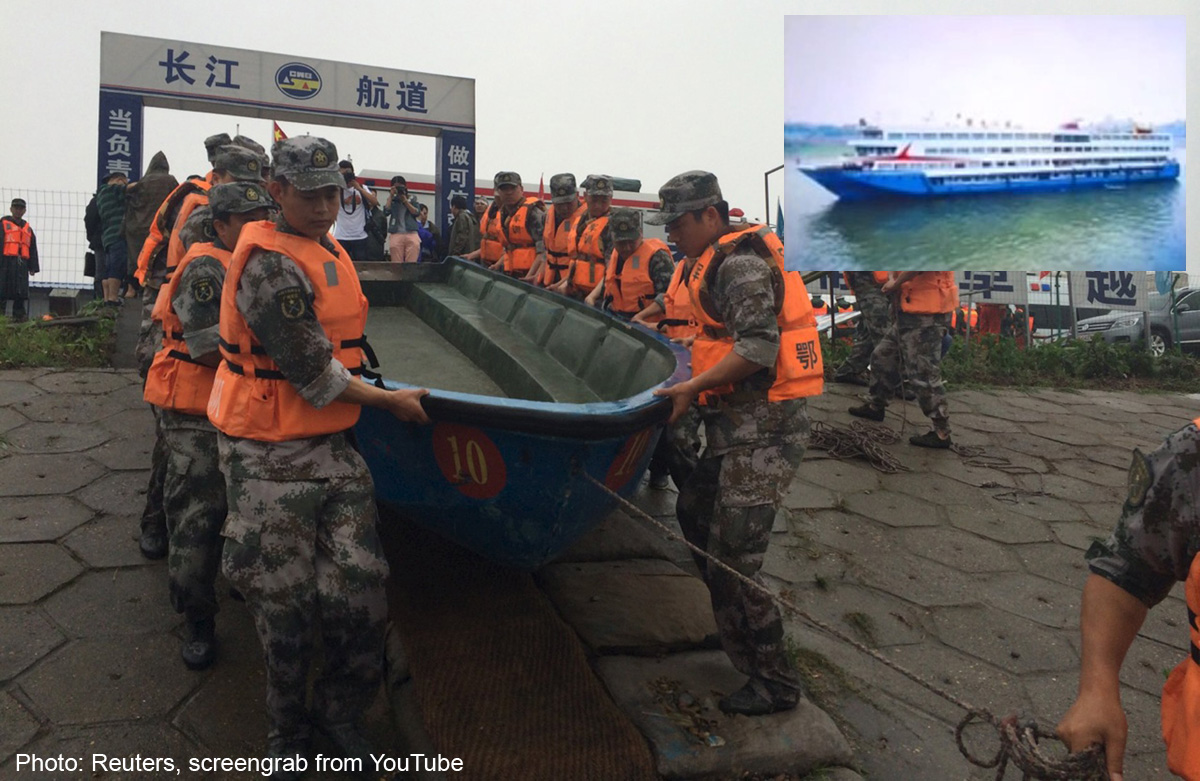 JIANLI, CHINA - Relatives of more than 400 people missing after a cruise ship capsized on central China's Yangtze river were hoping for a "miracle" yesterday.
State media said just 14 people have been rescued from the Eastern Star which overturned late on Monday in a storm, with just a section of its hull above the murky water.
Another 19 bodies have been recovered, state broadcaster CCTV said, leaving hundreds of mostly elderly passengers still missing and possibly trapped within the ship, which witnesses said overturned in a matter of seconds.
A total of 458 people had been on board the vessel, which was plying a popular tourist route from the eastern city of Nanjing to the south-western city of Chongqing.
Officials gave no updates on the death toll or number of people rescued during a press conference held yesterday afternoon.
The ship has 150 cabins and divers are searching the rooms one by one, CCTV said, while the authorities have expanded the search area to include areas around Wuhan, 220km downstream.
Engineers are looking at the possibility of cutting open the hull in three places or lifting the vessel into an upright position, the state broadcaster said.
Divers looking for survivors faced extremely difficult conditions.
"The river water at the accident site is quite muddy and there is virtually no visibility," said Zhang Jianxin, vice-director of the Transport Ministry's rescue department.
"Divers can only rely on touch while searching underwater."
Some 36 hours after the accident, hopes for more survivors are dwindling.
"We are in a race against the clock in the search," Transport Minister Yang Chuantang said.
"As long as there is the slightest hope, we will make every effort and never give up," he said on Tuesday.
Relatives are also refusing to give up.
"I'm hoping for a miracle," Tan Zhenxing, whose father worked on the boat, told the China Daily newspaper.
Rescuers pulled at least three survivors from the wreckage on Tuesday after they cut through part of the hull to reach the interior of the vessel, but then worked through the night in vain.
Later, CCTV showed Premier Li Keqiang bowing to bodies covered by white sheets as rain poured down.
Condolences for the disaster came from the United States, European Union, the United Nations and the Vatican.