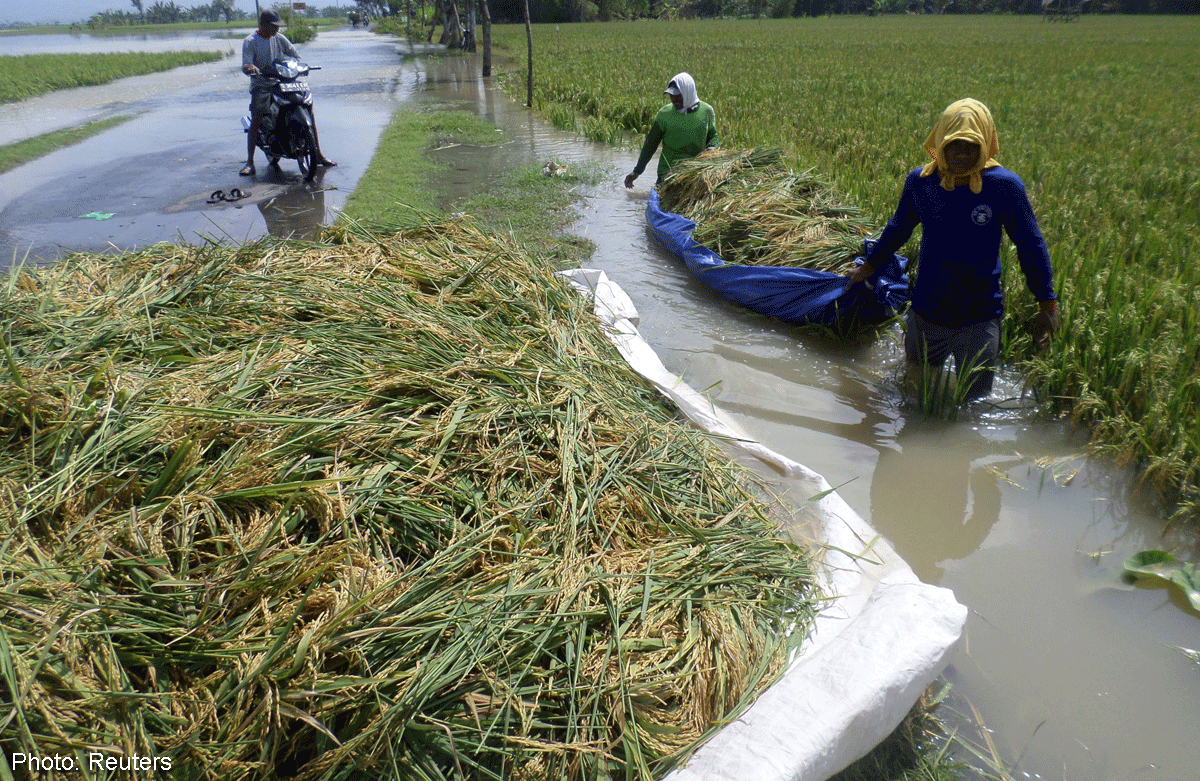 The overflowing Bengawan Solo River has inundated areas of Surakarta (Solo) city and Sukoharjo and Klaten regencies in Central Java following torrential rains Friday night.
Rapid currents from the overflowing Bloro River, a tributary of the Dengkeng River in Klaten, worsened the flooding.
Through Saturday afternoon, southern parts of Surakarta centred on the Semanggi, Kampung Sewu, Kampung Beton and Pucang Sawit areas near the Bengawan Solo remained inundated.
"Today, the southern part of the city flooded; yesterday it was the northern part," Surakarta Mayor FX Hadi Rudyatmo said Saturday.
Hundreds of residents have taken refuge at shelters set up by volunteers, the Regional Disaster Mitigation Agency (BPBD), the Red Cross, the police and military. Soup kitchens and medical posts have been set up near affected areas.
Rudyatmo said the city administration was ready to pump water from levees to stop floods from spreading.
"We have deployed nine pumps. As soon as the Bengawan Solo overflows, the pumps will be turned on," the mayor said.
As of Saturday evening, the level of the Bengawan Solo was still above average.
At least 10 villages were inundated in Juwiring, Karangdowo and Pedan districts in Klaten up to depths of two meters.
"All refugees have been taken care of. We are still combing affected villages to evacuate more residents," Klaten BPBD acting chief Sri Winoto said.
Floodwaters also affected hundreds of hectares of recently planted rice fields.
According to Karangdowo district chief Agus Suprapto, flooding in Klaten was caused by the overflowing Dengkeng River.
"Almost all areas in my district saw floods of between 50 centimeters and one meter. Some areas were even worse," Agus said.
In Sukoharjo regency, floods hit hundreds of homes in Mojolaban district and cut access to Klaten.
In southern Surakarta, floods from the overflowing Pepe River have receded, leaving mud and garbage strewn on roads.
"We are predicting that a total of 300 to 400 tons of garbage was left by the flood. Our personnel are working to collect the garbage with help from residents and police and military personnel. We are also deploying firefighters to help clean the roads," Surakarta Sanitation Agency official Sudiyatmo said.
Sudiyatmo said the city was prioritizing the clearing of public offices, schools and sewers.
In East Java, authorities have raised the alert level in Bojonegoro, Tuban and Lamongan.
"Flooding upstream of the Bengawan Solo and in Ngawi has led us to increase the alert level in downstream areas," Bojonegoro Water Resource Management Agency chief Mucharom said, as quoted by Antara.