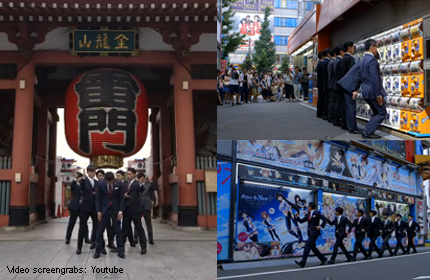 TOKYO - A music video of a group of suit-clad men doing a robotic dance at different landmarks in Tokyo has gone viral.
"Welcome to Tokyo", the music video by Japanese band World Order, celebrates Tokyo being selected to host the 2020 Summer Olympics.
Genki Sudo is a retired mixed martial artist who heads the 7-men band. World Order is well-known for performing interesting choreographed dance pieces in public spaces in their music videos.
In the video, the band members, dressed in dark-coloured suits, surprised passers-by with synchronized robotic dance moves along busy streets, in front of office buildings and aged temples, while showcasing various sights of the Japanese capital.
Many amused viewers took out their mobile phones to record the unique sight while some adventurous children chose to join in the dance. Others had their eyes glued on to the dancers as they carried on walking to their destinations.
The combination of smooth moves and interesting locations make a compelling invitation to foreigners who are considering visting Japan's most dynamic city.