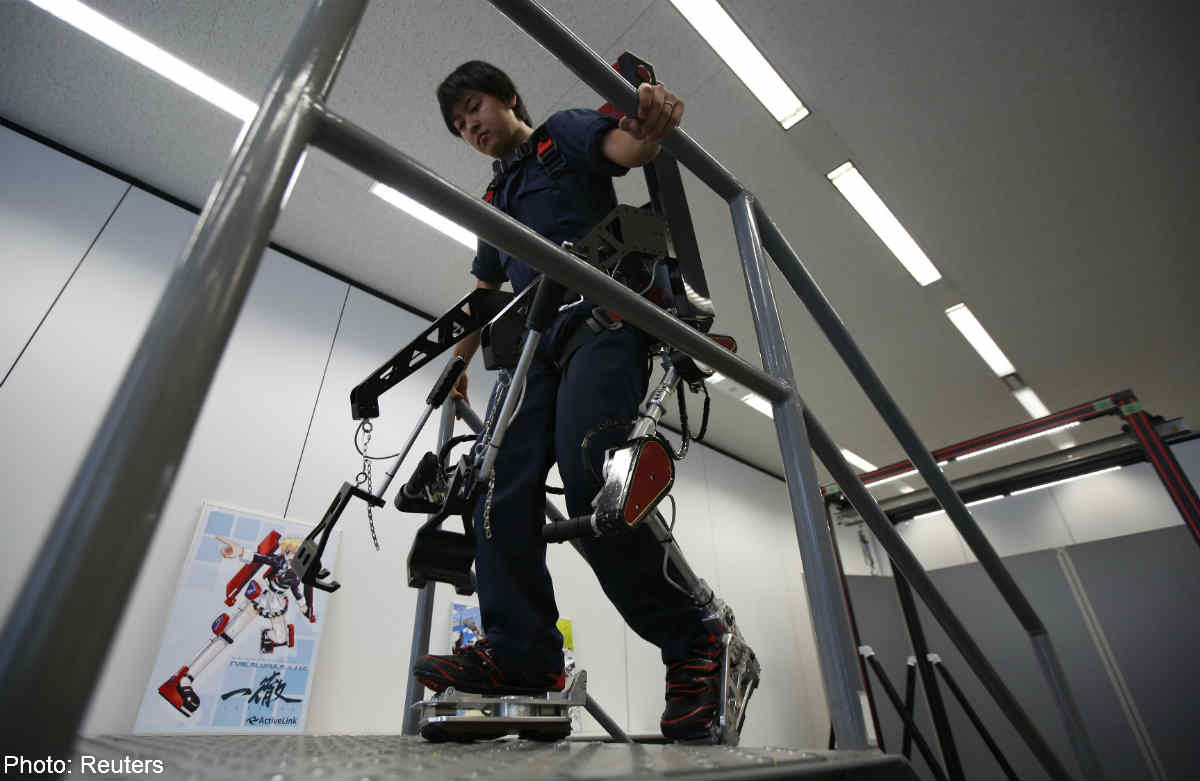 The Japanese government plans to hand out subsidies to promote the manufacture of cheaper robots to solve the labour shortage issue in the nursing care and agricultural sectors and to increase productivity in factories.
This "robot strategy" will be part of the "third arrow" growth strategy being drawn up by Prime Minister Shinzo Abe, said a report yesterday by the largest-circulating Yomiuri Shimbun daily.
Mr Abe's much-anticipated growth strategy, which also includes tax cuts for corporations and other key reforms, is due to be unveiled later this month.
It is part of his plan to lift Japan's flat economy, with the first two arrows implemented earlier being fiscal stimulus and monetary easing. Japan has long been a leader in advanced robot technology.
Now, Mr Abe wants his country to also be a world leader in the manufacture of cheap and easy-to-use robots, a sector that is expected to become increasingly competitive.
Japan hopes to treble the size of the domestic robot sector to 2.4 trillion yen (S$29.4 billion) by 2020.
According to government estimates, Japan's nursing care sector is expected to be short of about one million workers by 2025 as its working population declines.
Besides using robots to make up for the deficit, workers who have to carry patients around can be fitted with "power-assisted suits" or similar devices to make lifting heavy loads easier.
In agriculture, more than 60 per cent of farmers are over 65 years old.
The shortage of farmers could see a demand for driverless tractors for ploughing and machines that can help ageing farmers move heavy farm produce effortlessly.
Robots are also useful in times of disaster. Mini-helicopters fitted with cameras and sensors can be used to inspect damaged bridges or tunnels that are unsafe for human beings to be in.
The finalised growth strategy, which is likely to be announced on June 27, is expected to contain a long list of proposed changes, from labour reforms to raising the nation's fertility rate, and even allowing foreign domestic helpers into Japan so that Japanese housewives can work if they want to.
But perhaps the most anticipated proposal is Mr Abe's promise to cut Japan's effective corporate tax rate to the levels of neighbouring countries such as China and South Korea. This is to make Japanese firms more competitive internationally and to make Japan more attractive as an investment destination for foreign firms.
The present effective corporate tax rate is 35.6 per cent for Tokyo. Mr Abe wants to lower it to less than 30 per cent in stages over a few years, starting from next year.
Praising Mr Abe's initiative, the influential Nikkei business daily, however, said: "But as always, the devil is in the details." The government has yet to decide how to offset the decline in corporate tax revenue.
Experts have suggested increasing the tax base, as 70 per cent of Japanese companies are said to be not paying any taxes now, mostly by claiming that their operations are in the red.
In an interview with Bloomberg recently, former Japanese premier Yoshihiko Noda described Mr Abe's economic policies as "a kind of voodoo economics", especially as the proposed cut in corporate tax would negate the hike in the sales tax from 5 per cent to 8 per cent from April this year.
Among the targets that will be included in the growth strategy is the doubling of foreign visitor arrivals to Japan from 10 million last year to 20 million by 2020 - the year of the next Tokyo Olympics - by easing visa rules for more countries in the region.
wengkin@sph.com.sg

This article was first published on June 17, 2014.
Get a copy of The Straits Times or go to straitstimes.com for more stories.