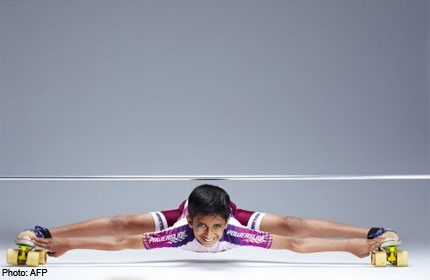 LONDON - A 12-year-old Indian rollerskating fanatic and a skateboarding goat were among the record-breakers who made it into the 2014 edition of the Guinness Book of World Records, released on Thursday.
Schoolboy Rohan Kokane, from the western Indian city of Belgaum, won his place in the famous book as the Lowest Limbo Skater, rollerskating beneath a height of just 25 centimetres (10 inches) over a distance of 10 metres (33 feet).
The 12-year-old, the only member of his family who skates, said he hoped his place in the Guinness World Records would "bring great prestige to my country".
A Puerto Rican chihuahua called Milly was honoured as the world's smallest dog, coming in at just 9.65 centimetres tall, while Happie the American goat skateboarded her way to glory by gliding 36 metres in 25 seconds.
A German woman, Julia Plecher, was listed as the fastest person to run 100 metres in high heels - crossing the line in just 14.531 seconds.
Six times bigger than a normal motorbike, a five-tonne vehicle made by Italy's Fabio Reggiani was officially named the world's largest rideable motorcycle - while at the other end of the spectrum, Austin Coulson of the United States had the smallest car at just 126.47 centimetres long.
Steve Sansweet of the United States won a place in the book with his collection of Star Wars memorabilia - which at 300,000 items is the largest in the world - while 33-year-old Briton James Brown achieved a similar feat with his 332-strong collection of vacuum cleaners.
Brown has been collecting the appliances since he was eight, but said he did not enjoy housework.