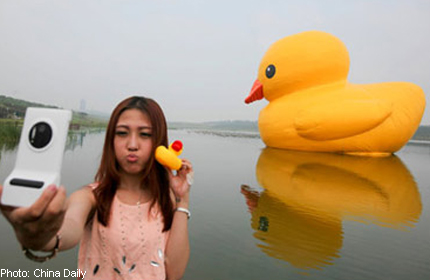 CHINA - As Dutch artist Florentijn Hofman's signature Rubber Duck makes its debut in Beijing on Friday, visitors must take care that they're looking at the real thing.
The 18-meter-tall duck will float in Beijing Garden Expo Park until Sept 23 and then be moved to the Summer Palace, where it will stay from Sept 26 to Oct 26.
The artwork was a gift from Amsterdam for this year's Beijing Design Week. The mainland debut of the sculpture comes a day after a copycat appeared in Yuyuantan Park in downtown Beijing, one of the latest imitations on the mainland after Rubber Duck made a sensation in Hong Kong in May.
The Yuyuantan duck is clad in a green vest and is accompanied by seven inflated "duck eggs" with "Green dream" written on them in Chinese.
The right to display Rubber Duck in Beijing was exclusively granted to Beijing Gehua-Rizzoli Design Communication Co, which helps organise Beijing Design Week.
Hofman's authorisation statement was shown at a news conference in the expo park on Friday.
According to Zeng Hui, deputy head of the Beijing Design Week Organisation office, the rights to develop derivative works and products of Rubber Duck on the mainland have been exclusively granted to Beijing Glory Culture International Communication Co.
About 30 derivative works and products will be developed.
Wang Jun, a partner in Beijing Yingke Law Firm who provides legal support for Rubber Duck's Beijing exhibition, said his team was investigating and collecting evidence about the copycat in Yuyuantan Park.
According to Beijing News, the copycat was put in place by an NGO that denied there was any connection between the two ducks.
Wang said that the NGO had contacted his firm asking for a chance to cooperate in the exhibition, but its request was turned down.
"The green duck was clearly a poor imitation of Rubber Duck," Wang said.
Wang said Beijing Design Week will take legal action for copyright infringement after his law firm completes its investigation.
Yuyuantan Park and the NGO could not be reached for comment on Friday.
After Rubber Duck made its debut in Hong Kong in May, many copycats came out on the Chinese mainland, most recently in Beijing's Nanhaizi Park last week.
But those responsible have been warned by Wang's law firm that they have no legal right to exhibit a rubber duck.
Rubber Duck is expected to attract more visitors, especially during the Mid-Autumn Day holiday, which falls on Sept 19 this year, to Garden Expo Park, said Qiao Xiaopeng, deputy head of publicity of Fengtai district, where the park is located.
"The artwork will help the park attract more visitors than it had during Dragon Boat Festival in June," Qiao said. More than 70,000 visited the park during the festival, a record high for any three consecutive days since the opening of the park in May.
Rubber Duck fans are happy.
Lyu Sitao, a student at Beijing Technology and Business University, said he skipped his classes on Friday to see the duck.
He also defended the organizers' decision to choose two suburban locations to display the duck.
"In the urban area in Beijing, you can't find a suitable place like the two parks, which have large water areas," he said.
"The giant Rubber Duck, larger than the version in Hong Kong, was just as tall as I expected," Lyu said.
But the cost of seeing it may deter some people.
Admission costs 100 yuan ($17) at the expo park and 30 yuan at the Summer Palace.
Model Dong Zhixuan, from Beijing's Chaoyang district, said after she saw the duck that she felt many people might think it wasn't worth paying 100 yuan.