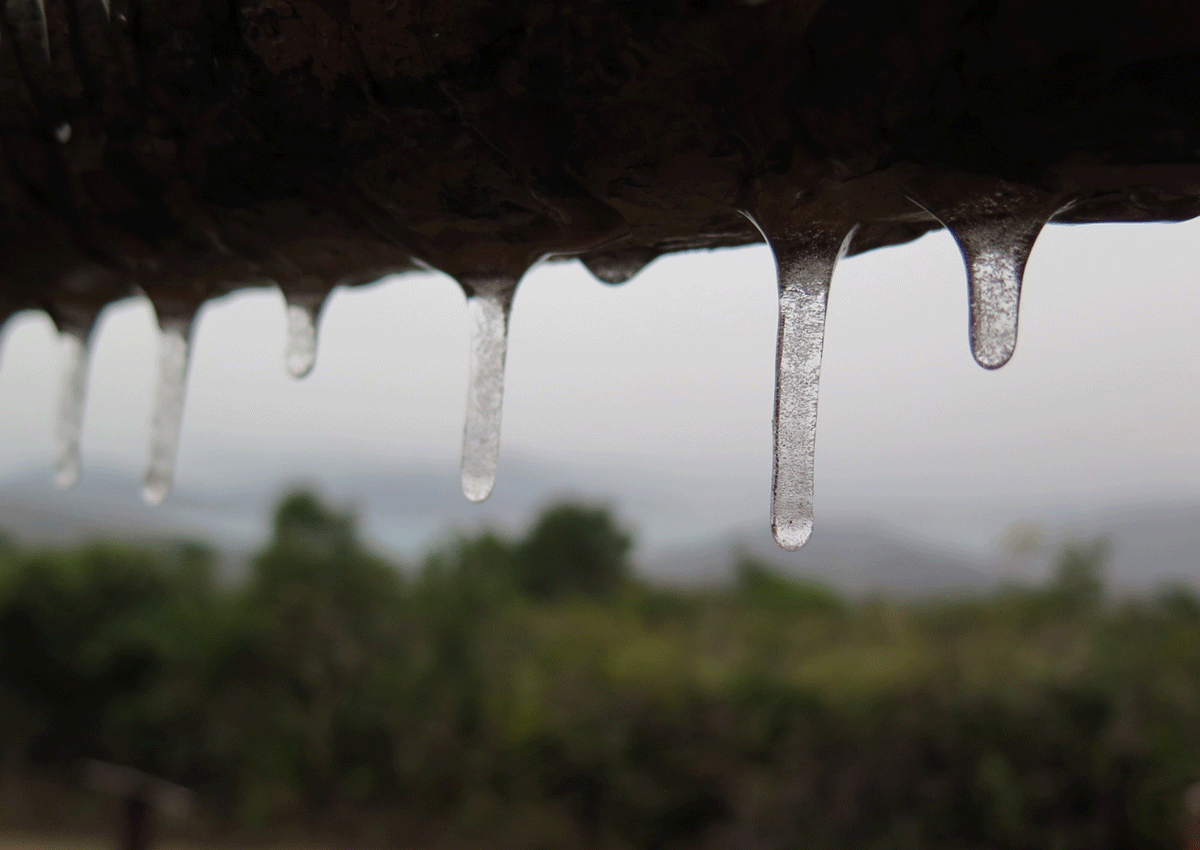 Snow, sleet and icy winds across Asia cause deaths, flight cancellations and chaos as areas used to basking in balmier climates struggle with record-low temperatures. The Straits Times looks at conditions in various places.
---
Along with the de rigueur dim sum and wanton noodles that Singaporeans visiting Hong Kong seek out, pilot Tan Howe Yang snared a rather different souvenir: snapshots of icicles.
On Sunday, he and three friends went hiking at Sai Kung in the New Territories when temperatures in the sub-tropical city dropped to 3.1 deg C - the lowest in nearly six decades.
Photo: Tan Howe Yang
Up in the mountains, it was below 0 deg C, with ice pellets and frost forming amid strong winds.
Said Mr Tan, 36: "It was a rather mad experience. None of us have hiked in such strong winds before. We got pelted with freezing rain, which stung our face a little."
Going downhill, in particular, was tricky, he added, as it was wet and muddy. But an experienced guide helped them through it.
Others were less lucky - hundreds of people were stranded and had to call fire services for help. More than 60 were taken to hospital, with three in serious condition, after being rescued from Hong Kong's highest peak Tai Mo Shan.
Some were competitors in a 100km ultra-marathon; others were "frost chasers" in pursuit of the rare sight of rime and rumours of snow.
The frigid spell continued yesterday, with classes at all kindergartens, primary schools and special schools suspended.
While temperatures are not as low as that in temperate regions, it is considered cold in Hong Kong, where apartments and schools are generally not heated.
The casualties in Taiwan, which is experiencing its worst cold wave in 10 years, were greater.
Local media reported that there have been at least 85 deaths - 21 in Taipei - from hypothermia or cardiac arrest, as temperatures plunged suddenly. Many were the elderly.
Taipei saw temperatures drop to 4 deg C - the coldest in 43 years, according to the Central Weather Bureau. Parts of New Taipei and Taipei in north Taiwan also saw a dusting of snow.
Agricultural and fish farms were also hard hit, causing millions of dollars in losses, said agriculture officials. Massive fish stocks were lost, while damage was done totea, pear, jujube and tangerine plantations.
xueying@sph.com.sg
This article was first published on January 26, 2016. Get a copy of The Straits Times or go to straitstimes.com for more stories.