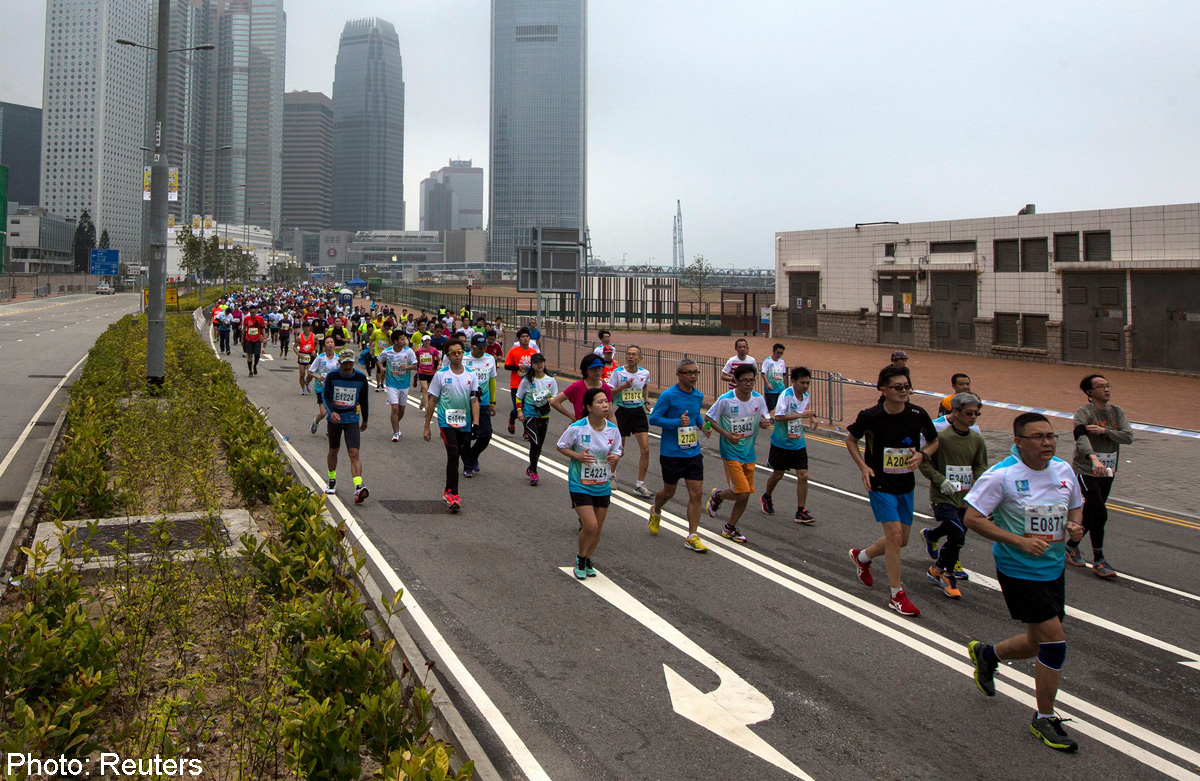 Out for a jog one day in the sleepy Laotian town of Luang Prabang, Michael Gilmore got an idea. He had just run a half-marathon at the temple ruins of Angkor Wat in neighbouring Cambodia, so why not set up something similar in Laos?
After months of work to woo sponsors, about 400 runners assembled in a narrow street opposite the royal palace last October for the first half-marathon in Luang Prabang. Proceeds went to charity.
"Destination races are catching on quickly in Asia, as organizers realise it just takes an extra marginal shift to get more people to a new place," said Gilmore, a British national who works in equity sales at HSBC in Singapore.
"While the turnout may be in the hundreds, as opposed to the thousands that many of the more popular city marathons get, the runners tend to get their families along, which has a multiplier effect on tourism and the local industry."
Gilmore plans to hold the second edition of the Luang Prabang race this year on October 12.
In recent years, races in other exotic locations in Asia have ranged from the Great Wall Marathon in China to paddy fields in Vietnam to the stark landscapes of northern India.
"Our aim is to make exciting races in areas where the runners would love to run and also visit as tourists," said Steen Albrechtsen, a manager at Adventure Marathon, which organises the Great Wall Race.
Marathons and ultra-marathons in Asia trace their roots to the rise of adventure racing globally in the mid-1990s, when teams took on inhospitable terrain by running, swimming and cycling over long distances.
Hong Kong, with large nature parks alongside urban congestion, leads in innovative formats. Besides an annual road-based marathon, it hosts four trail runs of 100 km (62 miles), one of 168 km (104 miles) and a mammoth one of 300 km (186 miles).
In last Sunday's marathon, about 64,000 runners in various distance categories hit Hong Kong's usually teeming highways - a big leap from the 1,000 drawn to the first event in 1997.
"I love this race because it offers me an opportunity to run on the busy underground tunnels and roads which are otherwise off-limits for me," said David Lee, a 30-year-old consultant who did the half-marathon for the third time.
"NO ROADS TO SPEAK OF"
Destination races generally fall into two types.
In the first, runners cover huge distances over several days, carrying their equipment on their backs. One such is the RacingThePlanet series that tests runners over five deserts, with organizers providing only tents and water.
The second type evolved as organizers recognised that an affluent middle class was looking to travel to exotic locations and combine the trip with a run of 10 km or more.
"Organizing these races is not easy and you have to be prepared for anything from flash floods to local disruptions," said Steve White, editor-in-chief of Hong Kong adventure run magazine Action Asia Trail.
Other challenges include getting permission from authorities and - in areas with a heavy military presence - ensuring runners cross checkpoints on a schedule.
"In many of these places, there are no roads to speak of," said Deepak Patel, co-founder of Dynamic Sports, which hosts high-altitude races in Ladakh in northern India. "We are constantly on the lookout for new routes to challenge runners."
Despite the lure of the exotic, the races don't come cheap. A six-day package for the Beijing race can cost nearly $2,000, compared with a $40 entry fee for the Hong Kong marathon.
As adventure races become more popular, companies in the United States and Europe sense opportunities, sponsoring local athletes and sometimes flying star runners to Asia. Salomon, a French firm, has led the rush of running equipment makers, with North Face and Columbia close behind.
"The future is very bright for these kind of races as you are offering an experience and the sky is the limit," said White. "It seems like the 100 km is the new marathon."