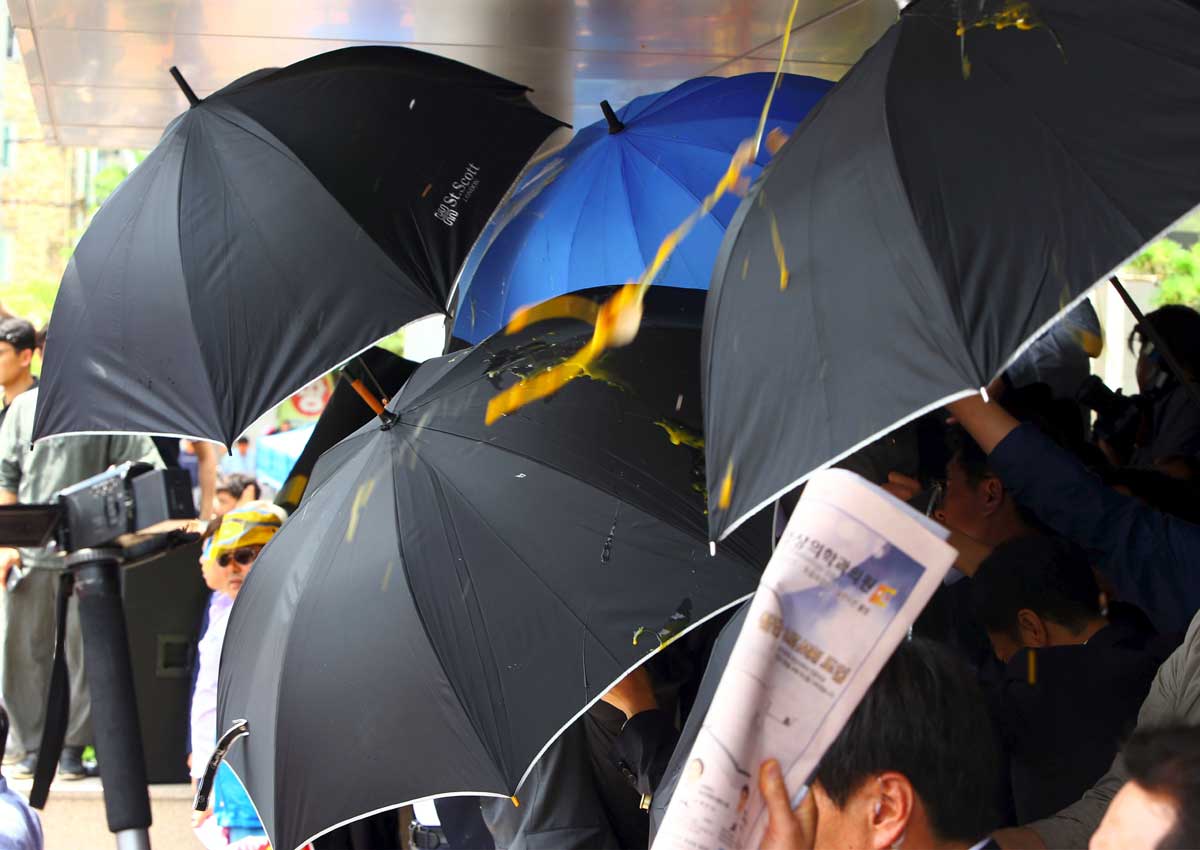 SEOUL - An angry mob of protestors on Friday threw eggs and water bottles at South Korean Prime Minister Hwang Kyo-Ahn, calling for the retraction of a decision to deploy a US anti-missile defence system in their home town.
South Korea announced Wednesday the Terminal High Altitude Area Defense system, or THAAD, will be installed in Seongju County about 200 kilomeres (135 miles) southeast of Seoul by the end of next year.
The announcement sparked fury among the town's residents, who say the THAAD deployment would ruin their melon farming and cause health and environmental hazards.
"We apologise for not giving you prior notice," the prime minister said before a crowd of some 3,000 protestors who gathered at the Seongju county government office on Friday.
The otherwise restful town has been roiled by angry protests since Wednesday when thousands took to the street carrying banners reading "We absolutely oppose THAAD deployment".
The head of the county Kim Hang-Gon and other town leaders cut their fingers and wrote slogans in blood on banners at Wednesday's rally.
"The government will do its best so the residents can live their daily lives without any concern," said Hwang, accompanied by senior government officials including Defence Minister Han Min-Koo.
But his speech was cut short by angry residents who pelted water bottles and eggs at the prime minister and his company, TV footage showed.
"You bastard," a protestor shouted, according to Yonhap news agency.
"Why would you bring THAAD to Seongju?"
Residents fear the THAAD radar could bring harmful economic and environmental effects to their town of 45,000 people, where 60 per cent are engaged in watermelon agriculture.
The prime minister's visit comes a day after President Park Geun-Hye told her government officials to adress concerns among Seongju residents over THAAD while calling for an end to "needless" squabbling within the country over the issue.
Seoul and Washington last week revealed their decision to deploy the THAAD system in the South following recent North Korean missile and nuclear tests.
Tensions are high high since Pyongyang carried out its fourth nuclear test in January, followed by a series of missile launches that analysts said showed the North was making progress towards being able to strike the US mainland.
North Korea on Thursday accused Park of "offering the Korean peninsula to foreign forces as a theatre of a nuclear war."
"She unhesitatingly sold off the destiny and interests of the nation and undermined regional peace and stability," the North's Committee for the Peaceful Reunification of Korea said in a statement carried by Pyongyang's KCNA news agency.
South Korea's Unification Ministry on Friday reubtted the North's comments, defending the planned deployment as a "defensive measure".
"We strongly condemn the North's nonsensical slandering aimed at dividing our society," the ministry said in a statement.