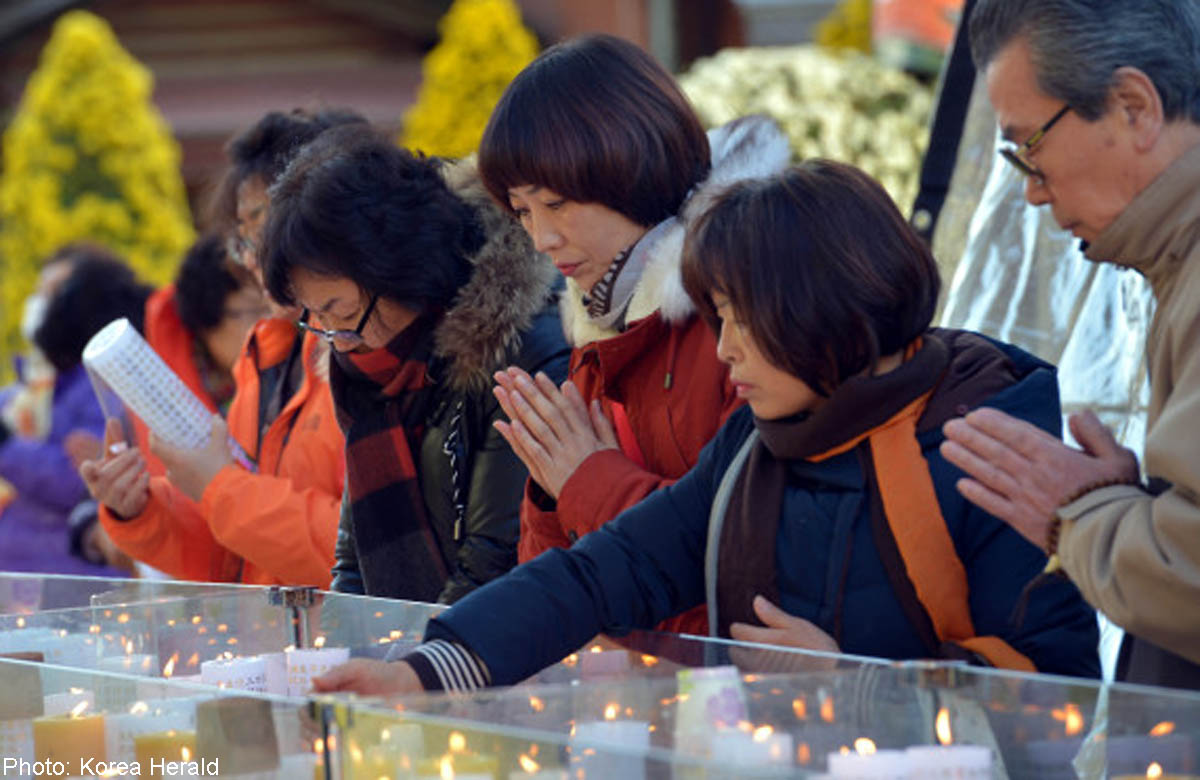 A raucous crowd of well-wishers on Thursday surrounded the gates of Yongsan High School in Seoul, one of 1,216 venues for this year's college entrance exam. The parents, teachers and high school students who packed the streets appeared completely unfazed by the subzero temperature and blustery wind.
"I'm not cold at all. We are all in this together," said 62-year-old Park Su-yeon, who travelled an hour to get here and cheer for her third grandson. She stood in front of the gate praying for her grandson Dong-jae, long after he had entered the school grounds and the gates had closed.
The annual College Scholastic Aptitude Test ― called the Suneung in Korean ― is an eight-hour multiple-choice exam.
After seeing her grandson off at Yongsan High, Park said she was heading to a nearby temple to pray for him all day.
Dong-jae is one of 640,621 people who took the test this year for a chance to enter a prestigious school. Among them, 495,027 were high school students and the rest were mostly making another attempt to gain admission to college.
Park's attitude is not unusual in Korea, where attending a prestigious university can determine whether one succeeds or fails in life. Because of the high stakes of the Suneung, the entire country remains on tenterhooks during the exam day.
Banks and government bodies opened an hour later than usual, at 10 a.m., while the government advised military units located near exam sites to refrain from mobilizing their forces.
All planes were banned from taking off or landing during the listening comprehension section of the English test.
Sometimes the stress of the Suneung becomes too much for students to bear. Around 11 p.m. Wednesday, a high school senior was found dead near his home in Gyeonggi Province in an apparent suicide. He had been studying for the upcoming Suneung, his parents said, adding that the boy had been stressed over his grades.
A solemn mood inside one exam site was a testament to the immense pressure the students face. The majority of stone-faced students quietly went over their notes in a final review, not uttering a word.
One student said the presence of his friend helped ease the tension. "My only hope right now is to do the best I can, and not make mistakes," he said.
Going to the wrong test venue is among the worst mistakes a test taker can make, and the Education Ministry advises students to visit their venue before the actual exam day. But each year, a handful of students arrive at the wrong location, resulting in confusion and panic on the day of the crucial exam.
Early Thursday, a student arrived at Poongmoon Girls' High School in Seoul only to find that he was supposed to be elsewhere. He jumped in a police car which rushed him to the right venue.
But things were not so simple for some students. According to Gyeonggi Provincial Office of Education, a male student arrived at Gwangmyung High School in Gyeonggi, only to discover that he was supposed to go to the Gwangmyung High School in Seoul.
Officials at the GPOE who supervised the tests in the area decided that there was no way he could make it back to Seoul in time, and allowed the student to take the Suneung at the Gyeonggi school.
This year's Suneung was expected to be similar in difficulty to last year's test. Exam writers said the English test was in accordance with the government's "easy Suneung English policy," while private educators said the Korean test was similar in difficulty or slightly harder than last year's test.