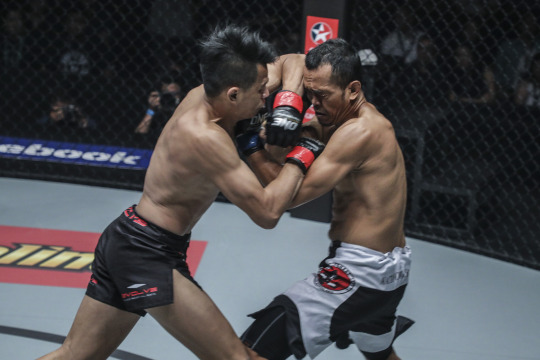 Thai hero Sagetdao "Deadly Star" Petpayathai lived up to his nickname.
The Muay Thai legend produced a devastating performance of striking excellence to defeat Filipino Jimmy "The Silencer" Yabo, in the first round of their featherweight clash at ONE: WARRIORS OF THE WORLD in Bangkok, Thailand.
The bout represented only Petpayathai's third in the ONE cage, but he brought a lifetime of experience as a Muay Thai practitioner, having won multiple prestigious Lumpinee and Rajamdamnern world championships during a stellar career between the ropes.
That proficiency in the "art of eight limbs" was evident from the very start of the contest, as the 30-year-old settled into his striking almost immediately, landing cleanly and causing Yabo problems early on.
Yabo entered the contest with a striking background of his own, but the Lapu-Lapu-based athlete's taekwondo and boxing style was no match for Petpayathai's Muay Thai attack, as the Thai overwhelmed his rival with devastating striking.
The 30-year-old started out looking loose and relaxed, finding his target with a couple of left high kicks early on, as he stated his intention to deliver an eye-catching knockout performance.
Those early strikes forced Yabo to change his game plan, as the Filipino closed the distance and forced "Deadly Star" up against the cage. But Yabo was unable to secure the takedown, and the action quickly returned to the center of the cage, where Petpayathai went straight back to work.
The Muay Thai ace landed another left high kick, forcing Yabo onto the back foot, as Petpayathai looked for an opportunity to close in on a first-round finish.
"Deadly Star" backed up his man against the cage, stepped into close range, and showcased his world-class clinch game, landing a salvo of elbows and body kicks that softened up Yabo for the finish.
Petpayathai then closed the show with a perfectly-placed knee to the liver, as "The Silencer" folded up and dropped to the floor at the 2:44 mark to give the hometown hero his third successive first-round KO finish in three bouts.
Following his win, the Evolve MMA-trained star made his future intentions clear as he told ONE commentator Mitch Chilson, "My ultimate goal is to become the ONE [Featherweight] World Champion."