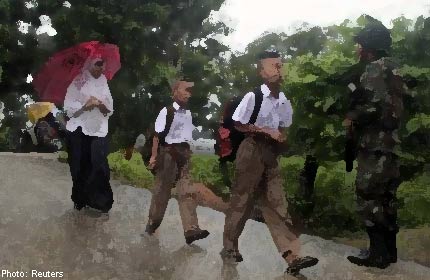 BANGKOK - A bomb attack by suspected Muslim rebels on a school in southern Thailand killed two soldiers on Tuesday, part of a patrol sent there to protect the teachers, police said.
Thailand is predominantly Buddhist and resistance to central government rule in the Muslim-majority provinces of Yala, Pattani and Narathiwat has existed for decades, resurfacing violently in 2004.
Teachers are seen as representatives of the government.
The attack in Yala came as peace talks between the government and rebels have stalled in recent weeks.
"The explosion occurred inside the compound of a school in Yala province this morning where children were playing. The bomb was planted by local rebels," police said.
"At least one child was injured."