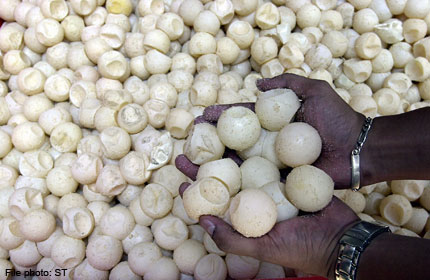 World Wildlife Fund (WWF) Indonesia says the smuggling of sea turtle eggs in to Malaysia from West Kalimantan has drastically increased, triggered by the high prices of turtle eggs.
"In Malaysia, each turtle egg can fetch 80 ringgit cents or about Rp 2,600 (s$0.28). Meanwhile, at local markets, they cost only Rp 1,500," said turtle conservation coordinator of WWF-Indonesia for West Kalimantan programme, Dwi Suprapti, in Pontianak, on Sunday.
Sea turtles can live for more than 150 years. A sea turtle begins reproducing between 30 to 50-years-old. In West Kalimantan, sea turtles can be found in coastal areas in Paloh district, Sambas regency, which is known as the longest turtle nesting spot in Indonesia: Stretching for 63 kilometers.
"Unfortunately, such a long beach is monitored by only 21 activists, as such it's relatively easy for eggs to be stolen," said Dwi.
No data is available on the total number of turtle eggs smuggled in to Malaysia.
In Paloh beach, there are around 2,000 green turtle nests every year. In 2009, 2,146 turtle nests were ransacked. Only 26 per cent of all nests were looted in 2011 and 22 per cent in 2012 thanks to local communities, Jimmy said
But during the nesting period peak in 2013, egg hunting in Sebubus village and Temajuk village increased by 40 per cent and 95 per cent respectively.