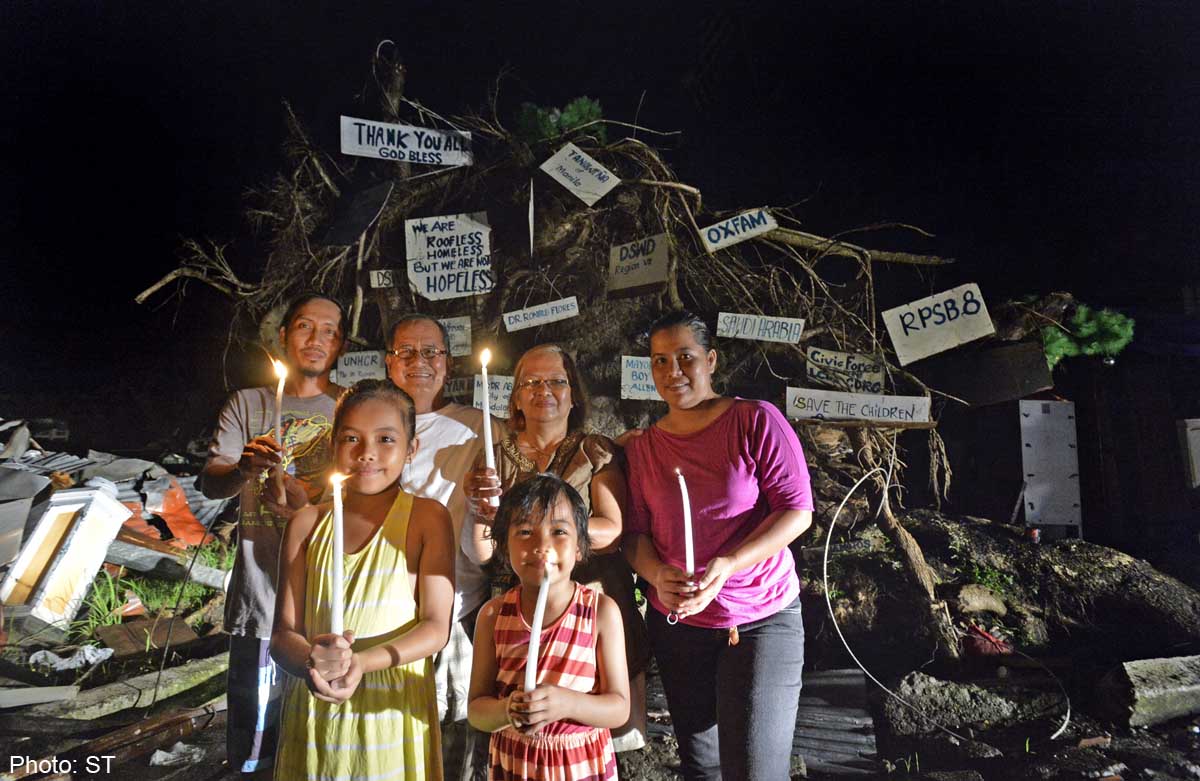 TACLOBAN- Tacloban is marking what may be its most bleak - and yet at the same time most hopeful - Christmas.
As the city of some 200,000 crawls back to the business of living more than a month after Super Typhoon Haiyan brought it to its knees, there are reminders of death and losses everywhere.
Bodies are still being recovered from ruins sprawled across a wide coastal area that bore the brunt of Haiyan's fury.
Tent cities housing thousands of evacuees line a road that leads to the airport.
Darkness still blankets most of the city at night, and food, water and money are constant concerns.
Yet, there are also signs of rebirth.
Petrol stations, restaurants, markets, churches, and even salons and Internet cafes have reopened. Radio stations are back on air with their soaps, kitschy tunes and populist commentaries.
Hawkers and neighbourhood stores ply their wares along many streets, offering items that just a few weeks earlier could not be procured: soda, crackers, junk food, cigarettes, shampoos and toothpaste.
Robinsons, a huge department store stripped clean during a brief moment of street anarchy days after Haiyan struck, is again welcoming shoppers.
A Christmas tree made from recycled water bottles and rubble from houses destroyed by Haiyan stands proudly in front of the city hall. People are jogging in the streets once more, wearing T-shirts that carry the message of a people unbowed: "Tindig Tacloban", or "Rise up, Tacloban". Tacloban's "rise", though, has been an incongruous one.
In areas that Haiyan levelled to the ground, there is a general sense of resignation to a long year subsisting on relief goods and the charity of others.
Here, people live inside tents put up by groups from abroad, such as the United Nations and Red Cross, or in hospitals, schools and convention halls converted into evacuation centres.
Here, people queue every day to get their ration of two to three sacks of rice, as well as some instant noodles and sardines.
Inside the tents and evacuation centres, Ms Soaade Messoudi of the International Committee of the Red Cross put her finger on the key issue. "The main problem is how they survive on a daily basis," she told The Straits Times.
Many people pine for the kind of assistance that the Buddhist Tzu Chi Foundation extended recently, which was to pay evacuees 500 pesos (S$14) a day to clear the roads of garbage and sewage.
The foundation also handed out envelopes with "leaves", depending on a family's size and needs. One leaf corresponds to a sum of 8,000 pesos, two leaves get the family 12,000 pesos and three leaves, 16,000 pesos.
Even in the more affluent downtown area, people are always worried about money, because getting some semblance of normalcy carries a steep price. Everything has doubled in price.
With the local utility firm able to reconnect only 148 consumers so far, generators are sought after in Tacloban.
One proprietor told The Straits Times that he sold 21 units in a single day last week, even though he was pricing a 3,000-kilowatt unit at 16,000 pesos, nearly double its usual price of 9,000 pesos.
Restaurants are also doing brisk business, charging more than $8 per serving for the equivalent of Singapore's chicken rice. At Giuseppe's, an Italian restaurant, prices are so steep that nine out of 10 of its patrons now are foreigners.
Even the affluent set in Tacloban know that flaunting their wealth at this time is foolish.
But that has to change soon, said Mr Edwin Manas, owner of Stephanie's Smoke Haus, the first restaurant to open its doors post-Haiyan on Nov 26.
Once the army of foreign relief and emergency workers start leaving Tacloban, he said, commercial establishments like his will have to turn to the local population to keep the cash flowing.
"That means people here will have to start getting regular jobs."
With most of Tacloban still living in tents and evacuation centres, however, that would not come easy.
Ms Messoudi said the transition from aid to reconstruction and independence would have to come soon. The international community, she said, would not be in Tacloban forever.
"Our main concern is the dignity of the population. Our main concern is how these people can continue their lives independently," she said.

Get a copy of The Straits Times or go to straitstimes.com for more stories.