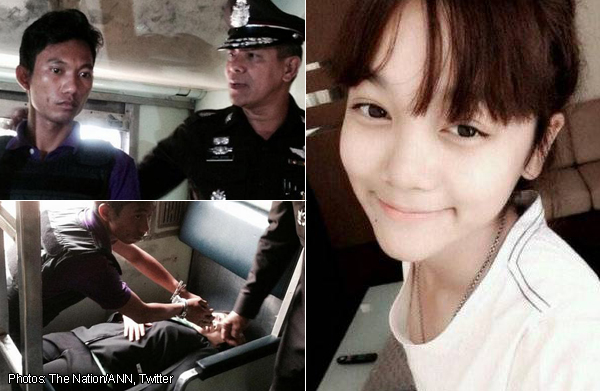 Police have charged a second State Railway of Thailand employee over his alleged involvement in the rape and murder of a 13-year-old girl on an overnight train to Bangkok.
Meanwhile, SRT "women only" carriages will be re-implemented on all overnight trains within 15 days.
Train cleaner Wanchai Saengkhao, 22, earlier confessed to raping and killing the girl. It is expected that forensic and DNA test results will be available in two days to determine whether Wanchai acted alone.
After the interrogation of a 19-year-old train worker by Prachuap Khiri Khan police chief Maj-General Thanes Sunthornsuk, an informed source reported that the teenager confessed that he was drinking with Wanchai when he learned of his plan to attack the girl.
Police charged him with aiding an offender who raped a minor aged under 15 and with giving false testimony to police in a bid to help another person escape punishment. He was sent to Prachuap Khiri Khan Prison yesterday.
This is contrary to a previous report that stated the man had provided useful information during his initial police interrogation and would be a witness.
Police will re-interview other cleaners who worked on the train the day of the murder.
Thanongsak Pongprasert, head of SRT's routes and schedules division, said the second-class women-only sleeper carriage was for accompanying children as well.
A 2001 "Lady Car" project to operate women-only sleeper carriages from Bangkok to Chiang Mai was launched, but it was quickly scrapped on the grounds it was not popular with passengers.
Thanongsak said a ban of alcohol sales at stations and on trains came into effect yesterday.
He said other long-term measures included having railway police guard all overnight trains, getting recruitment companies to ensure SRT workers were qualified and making workers submit to a drug test every three months.
The SRT will also require new employees to undergo a mental-health examination along with a physical.
Signs at Bangkok's Hua Lamphong Train Station announcing the alcohol ban were posted around the station and on all trains.
In related news, deputy national police chief General Pongsapat Pongcharoen said police would soon launch a major drug crackdown on the Nakhon Si Thammarat community behind the railway station and on railway employees identified as drug users.