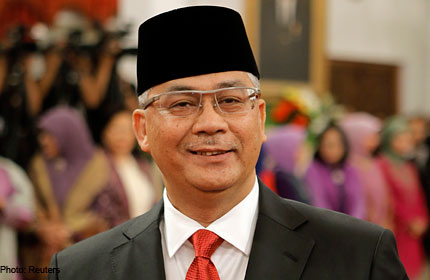 The late-night arrest of the chief judge of Indonesia's Constitutional Court, in a case involving the fixing of a local election result, has exposed just how vulnerable even the country's highest judicial office is to graft.
Anti-graft officials caught Dr Akil Mochtar, 52, with Singapore and US dollars worth up to three billion rupiah (S$330,000) at his official residence in South Jakarta's Widya Chandra ministerial complex, during a meeting with Golkar politician Chairun Nisa and businessman Cornelius around 10 on Wednesday night.
Police made three more arrests within hours in separate locations. No charges have been filed so far.
"Dr Akil's arrest has tainted the constitutional court, the nation's highest legal office, as an institution that cannot be trusted any more," a shocked Mr Mahfud MD, a former constitutional court judge, told reporters hours after his successor's arrest.
Dr Akil, a former politician from the ruling party's coalition partner Golkar, had assumed his post in Indonesia's highest-ranking judicial office only five months ago.
His rank is equivalent to that of a Cabinet minister.
His arrest has raised questions about how easily democracy can be bought as national elections loom months away.
It has also tarnished the image of the constitutional court, which rules in disputes over election results.
President Susilo Bambang Yudhoyono described his arrest as "shocking".
"I, too, feel the anger and shock of Indonesians upon learning about what happened last night," he told reporters at the presidential palace on Thursday.
The alleged bribery that led to the arrests is linked to vote- rigging in district polls in Banten and in last month's Gunung Mas, said Mr Johan Budi, spokesman for the Corruption Eradication Committee (KPK).
District chief Hambit Bintih's win is being challenged in court after allegations of vote-buying surfaced.
He is accused of attempting to influence the court outcome by sending Ms Nisa and Mr Cornelius to meet Dr Akil - one of three judges assigned to preside - to offer the payment.
Mr Hambit and an aide were picked up in a central Jakarta operation.
In a hastily arranged press conference at 1am on Thursday, constitutional court deputy chief Hamdan Zoelva, flanked by six fellow judges, said that the court's operations will continue. He added that their chief's cases will be taken over by other judges as the court assembles an ethics board as part of an internal review.
"We are shocked by this development. This is a slap to our faces, but we will carry on our duties and remain vigilant," said Judge Harjono.
The case is the latest in a string of high-profile arrests this year, including that of Mr Rudi Rubiandini, chief of the country's top oil and gas regulator SKK Migas, who is accused of pocketing US$700,000 (S$875,000) worth of bribes.
Last month, two-star police general Djoko Susilo was convicted of taking US$13 million in kickbacks and bribes. He has been sentenced to 10 years in jail and fined 500 million rupiah.
Reform in Indonesia is hindered by endemic graft that permeates even its judiciary as junior to mid-ranking judges have been caught on the take, say analysts.
Indonesia still ranks low in battling graft - it was 118 among 176 countries in a Transparency International's Corruption Perceptions Index.
"The case sends a signal that democracy can be bought," said Mr Hendardi, who heads political watchdog Setara Institute.
"This should serve as a momentum to tighten checks and balances, giving wider powers to the Judicial Committee to monitor the Constitutional Court."
zubaidah@sph.com.sg

Get a copy of The Straits Times or go to straitstimes.com for more stories.