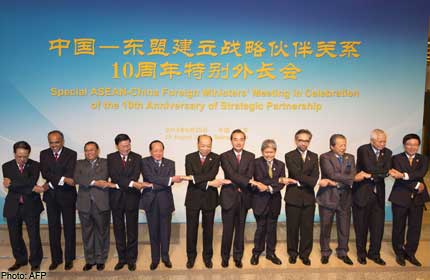 BEIJING - Top diplomats from ASEAN and China are in Beijing to mark a decade of strategic ties, with observers waiting to see if Beijing would give a firm commitment on negotiations for a code of conduct in the South China Sea disputes.
Foreign Minister K. Shanmugam is leading the Singapore delegation to the three-day Special ASEAN-China Foreign Ministers' Meeting. He met his Chinese counterpart Wang Yi on Wednesday, during which they reaffirmed the two countries' warm and longstanding bilateral relations, the Ministry of Foreign Affairs (MFA) said.
Earlier, MFA said issues such as the future direction of ASEAN- China relations, regional developments and preparations for the 16th ASEAN-China Summit in October will be on the agenda.
But the contentious territorial disputes that have hogged headlines in recent months are likely to continue weighing on the meeting.
Beijing has overlapping claims in the resource-rich sea with four ASEAN states - the Philippines, Vietnam, Malaysia and Brunei - and Taiwan.
Prime Minister Lee Hsien Loong, who is in China on a week-long official visit, and Premier Li Keqiang exchanged views on the issue during their meeting on Monday.
Speaking to reporters later, Mr Lee noted that Singapore has taken a consistent position on the issue.
He said that while it "cannot really be solved, it needs to be... managed peacefully and in accordance with international law, including the Law of the Sea".
"And we hope that all countries will exercise moderation and restraint and maintain a peaceful and not tense environment in South-east Asia," he added.
Experts say that ASEAN leaders are looking for a firm commitment from Beijing to move beyond just consultations and start negotiations on a code of conduct.
But they downplay expectations of a breakthrough, citing Beijing's lack of enthusiasm.
Institute of Southeast Asian Studies analyst Ian Storey said "the ASEAN ministers may be disappointed" as China may simply reiterate that while it is ready to begin consultations on the code, it is in no hurry to conclude an agreement with ASEAN.
Dr Xu Liping, a South-east Asia expert at the Chinese Academy of Social Sciences, said that while the South China Sea issue will be tabled, it is unlikely to be the main theme of the Beijing meeting. Other issues such as an upgraded ASEAN-China free trade agreement are likely to be discussed as well.
"The meeting is meant to build mutual political trust and demonstrate that China is not a threat to the region but offers development opportunities and plays a positive role in ASEAN integration instead," Dr Xu added.
The ASEAN ministers will pay courtesy calls on senior Chinese political leaders during their visit, which ends on Friday.

Get a copy of The Straits Times or go to straitstimes.com for more stories.