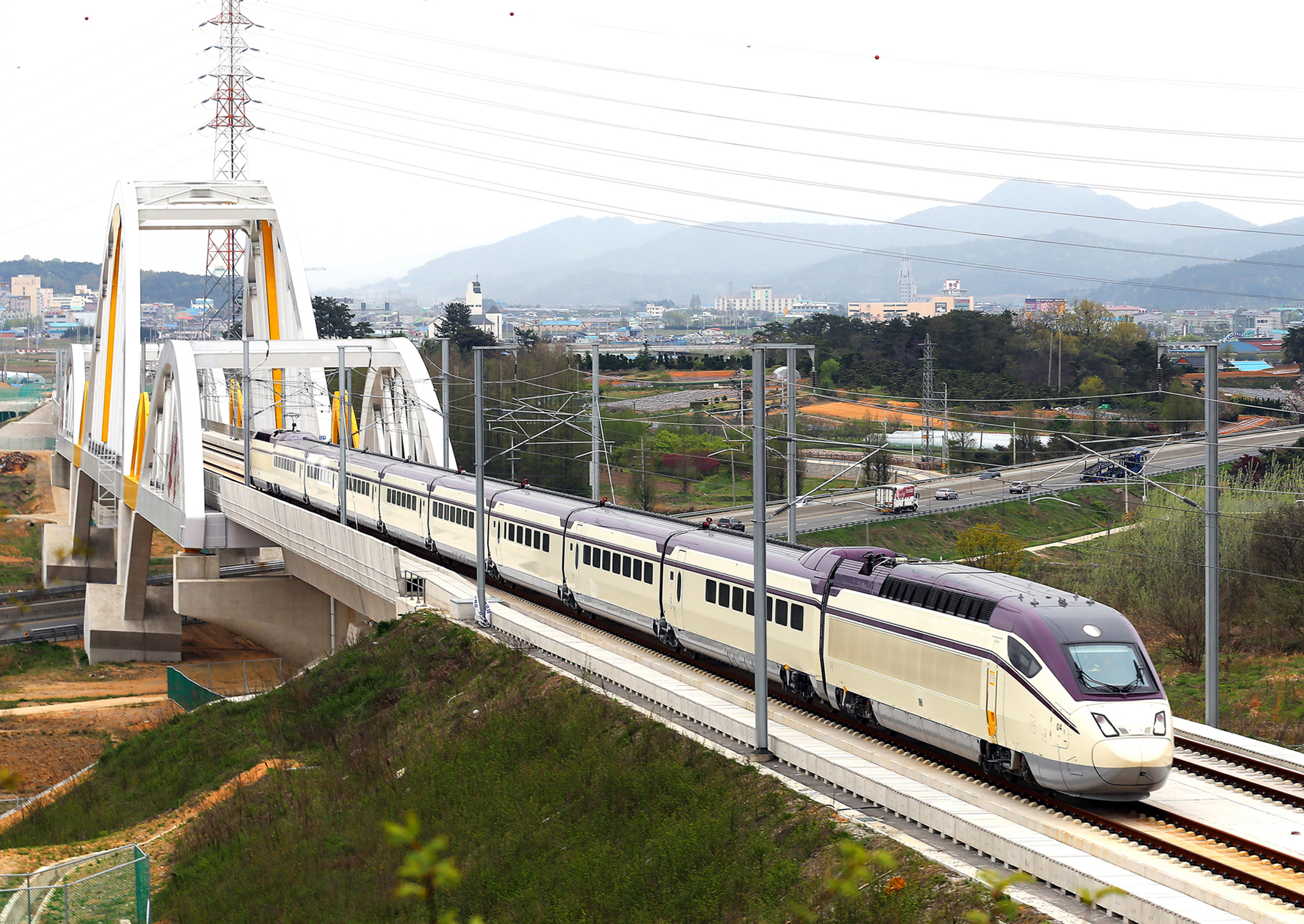 Like any other office worker living in Seoul, Ms Kate Lee spends more than an hour commuting to work on public transport every morning. The difference is that her office is located 140km south of Seoul, in Daejeon city.
But the communications manager in her 40s has never been late for work – thanks to the Korea Train eXpress, or KTX, which runs at 300kmh and takes just 52 minutes to go from Seoul to Daejeon.
The launch of the high-speed rail (HSR) in South Korea in 2004 has improved accessibility and halved inter-city commuting time, making it possible for people like Ms Lee, who lives in Seoul with her husband, to travel long distances for work on a daily basis.
About 150,000 people use the KTX every day, double the 71,000 figure when it started operating. Official data shows that 39.2 per cent of commuters travel to visit friends or relatives, 29.3 per cent for work or business trips, and 20.4 per cent for sightseeing.
The longest journey on the KTX from Seoul to the south-eastern port city of Busan – 325km away and on the main Gyeongbu Line – takes just 21/2 hours, compared with over four hours using regular trains.
"Initially, I thought of getting a room for myself in Daejeon, but then I tried commuting and found it's not so bad. I can still live in Seoul with my husband and take the KTX to work," said Ms Lee, who started working in Daejeon last September and uses a monthly KTX pass that costs 450,000 won (S$530).
A relative latecomer in North-east Asia to the HSR market, South Korea first adopted French systems for its first-generation trains. It has since caught up swiftly by investing heavily in research and developing its own rail systems, and is now ranked fourth in the world in terms of high-speed train technologies, after France, Germany and Japan.
In 2010, a major milestone was achieved when the first made-in- Korea bullet trains were rolled out.
They were developed locally by the Korea Railroad Research Institute (KRRI) and manufactured by Hyundai Rotem, part of Hyundai Motor Group. Teething problems such as accidents and malfunctions during the early years of operation were reported, but these were overcome with time as state-owned train operator Korea Railroad Corporation (Korail) tightened safety protocols.
Now, with years of experience in developing and operating the high-speed rail, South Korea is ready to export its technology and know-how to the global market, said Dr Choi Jeong Ho, Vice-Minister for Land, Infrastructure and Transport. "We are very proud of Korea's high-speed rail. It can be said that we created something out of nothing, and we would like to share this knowledge with other countries."
Hyundai Rotem, the only train manufacturer in the country, has been exporting trains to some 35 countries since 1964. But it has not secured any overseas contracts for high-speed trains yet.
A key project that South Korea is eyeing is the upcoming Singapore- Malaysia HSR, which aims to connect Singapore and Kuala Lumpur in just 90 minutes with a new 324km line cutting through Malaysian towns such as Batu Pahat and Ayer Keroh.
Estimated to be worth $14.9 billion, the project was first announced in 2013 but the two countries are still discussing details and have not called for a bid.
Last October, a 25-member Korean consortium – comprising public corporations Korea Rail Network Authority (KRNA), Korail, KRRI and Korea Land & Housing Corporation, as well as privately owned Hyundai Rotem, engineering and construction companies (Hyundai, Daewoo and Lotte), design firms and two major local banks – was formed in a bid to win the contract.
Dr Choi said they are "fully devoted" to the project, and he meets the consortium members every week to discuss plans.
Competition will be stiff, with both Japan and China expressing keen interest, but South Korea hopes that its expertise in building not just the HSR but also developing towns around HSR stations will tip the scales in its favour.
KRNA, as well as KRRI and Hyundai Rotem, also emphasised that they are firmly committed to sharing their latest technologies with their clients, instead of withholding the best for domestic use.
South Korea can also share its experience of how the HSR has helped it achieve greater balance in its socio-economic development.
In a country obsessed with speed – from eating quickly to surfing the Internet at high speeds – HSR development has helped to boost the local economy, ease traffic congestion and redistribute the burgeoning population in Seoul to surrounding regions, said Mr Kang Yeong Il, chairman of KRNA, which oversees rail development.
He told The Straits Times: "Korea truly opened up a new era by introducing high-speed rail and this was a great turning point for the country to achieve balanced national development."
It is no surprise then that the country is continuing to build more HSR links and is also looking to build faster and more energy-efficient trains that can run up to 600kmh – up from the current top speed of 430kmh.
The latest Honam Line, which cost over 8 trillion won to build and took over eight years to be completed, was opened last year to link the new administrative capital of Sejong City in the middle of the country, to Gwangju in the north-west. Slated to open in August is the new Suseo Line that will connect Gangnam district in southern Seoul to the Busan-bound Gyeongbu Line and, by next year, Gangneung Line in eastern Gangwon province will be operational.
"The ultimate goal of Korea's railway development is to achieve modal shift by establishing a low-carbon green railway logistics system and user-friendly railway environment," said Mr Kang.
changmc@sph.com.sg

This article was first published on February 01, 2016.
Get a copy of The Straits Times or go to straitstimes.com for more stories.