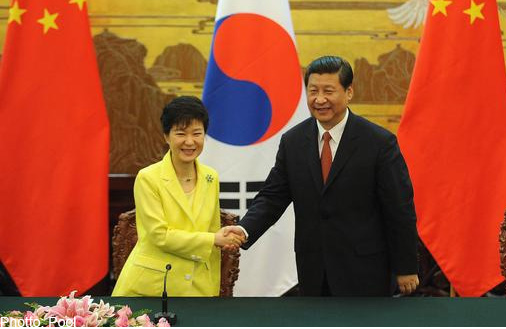 President Park Geun-hye said Sunday that South Korea is open to studying various options to restart six-party talks on North Korea's nuclear programme if there is guarantee of real progress in the negotiations.
Park made the remark during one-on-one talks with Chinese President Xi Jinping in The Hague, just days after Beijing's chief nuclear envoy returned from a visit to North Korea on a mission aimed at mediating the resumption of six-party talks on ending Pyongyang's nuclear programme.
The two were in the Dutch city for an international nuclear conference.
Park's remark may suggest that South Korea could soften its position that North Korea should first take concrete steps demonstrating its denuclearizaion commitment and that Seoul may accept a proposal to reopen the long-stalled negotiations only if there is guarantee of real progress.
"President Park said that various options can be studied with regard to dialogue resumption if there are guarantees that real progress can be made in denuclearization efforts and that North Korea will be prevented from advancing its nuclear capabilities," her office said in a statement.
Park said the chief nuclear envoys of the South, China and the US should make related efforts.
Park also told the Chinese leader that it is impossible for North Korea to develop nuclear weapons while concurrently developing its economy. The two leaders also reaffirmed their existing positions that a nuclear North Korea is unacceptable and the North must be denuclearized, the statement said.
Xi said in particular that China clearly opposes North Korea possessing nuclear weapons and is sincerely carrying out related United Nations Security Council resolutions. Though there are differences between Beijing and Pyongyang on the nuclear issue, China is trying to persuade the North, Xi was quoted as saying.
The six-party talks have been stalled since the last session in late 2008. North Korea has called for reopening the negotiations without any preconditions, but Seoul and Washington have demanded the North first take steps to show its seriousness about denuclearization.
During Sunday's meeting, Park also briefed Xi on her plan to launch a presidential committee for unification with North Korea, saying a unified Korean Peninsula will be free of nuclear weapons and serve as a new growth engine for Northeast Asia.
Xi totally agreed with Park's view, saying he firmly supports efforts to realise reconciliation between the two Koreas and an independent peaceful unification of the peninsula, according to the statement.
Park called on Xi to work together for the conclusion of free trade talks within the year. Xi expressed hope for a quick conclusion of the negotiations, saying it would be in the interests of both countries to sign an advanced and balanced free trade agreement as soon as possible.
At the start of the talks, the two leaders expressed satisfaction with the progress made in carrying out a series of cooperation projects they agreed on last year, including the establishment of a memorial hall in China in honour of Korean independence fighter Ahn Jung-geun known for his 1909 assassination of Hirobumi Ito, the first Japanese governor general of Korea.
Xi said China also plans to unveil a stone monument honoring Korean independence fighters.
Park said that South Korea plans to repatriate some 400 sets of remains of Chinese troops killed in the 1950-53 Korean War soon, adding that the move will help enhance friendship between the two countries.
Park first offered to return the remains during her state visit to China in June last year.