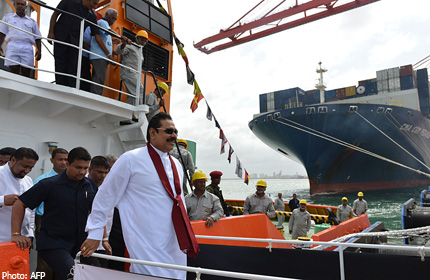 COLOMBO - Sri Lanka Monday launched a China-funded port which will be the island's biggest and is intended to make Colombo a strategic shipping hub along the world's most lucrative trading route.
President Mahinda Rajapakse commissioned the US$500 million (S$633 million) Chinese-built mega container terminal by symbolically loading the first container onto a ship in a ceremony broadcast live on national TV.
Monday's launch is part of an ambitious programme by the state-run Sri Lanka Ports Authority (SLPA) to expand Colombo harbour, which is located half way along the East-West sea trading route.
"We want to capitalise on the geographic location of Sri Lanka and pass on the economic benefit to our people," Rajapakse said after formally commissioning the Chinese-run Colombo International Container Terminal.
The terminal is 85 per cent owned by state-run China Merchant Holdings International, with the rest owned by the SLPA. It is designed to handle mega ships with a capacity of over 18,000 containers - a first for Sri Lanka.
The involvement of China Merchant comes after Beijing sealed a deal in January to acquire Pakistan's Gwadar port. It is also building a US$14 million "dry port" in the Nepalese city of Larcha near Tibet.
The Chinese investment in Sri Lanka has raised fears in India about its influence in the neighbourhood, but SLPA has insisted that India haa nothing to fear.
SLPA chief Priyath Bandu Wickrama told AFP last week that no port in Sri Lanka would be utilised for military purposes. He also noted that much of the transhipments through Colombo were Indian cargo.
Just next to the new terminal, the SLPA is building another mega terminal which is expected to raise Colombo's container handling capacity by 1.6 million containers to over 6.1 million containers annually by April.
The mega port is protected by a 6.8 kilometre (4.25 mile) tsunami-resistant breakwater which the SLPA built with US$300 million borrowed from the Asian Development Bank and $100 million of its own money.
Bank vice president Xiaoyu Zhao said the new mega port was well located to serve the Indian subcontinent and boost regional trade.
"The enhanced deepwater facilities at Colombo Port will strengthen its strategic position on the key Asia-Europe shipping route, and will significantly boost regional trade," Zhao said in Colombo.
He said the ADB was encouraging more private-public partnerships.
Chinese loans and expertise were also instrumental in the construction of a new $450-million deep-sea port at the southern Sri Lankan city of Hambantota which opened in June 2012.