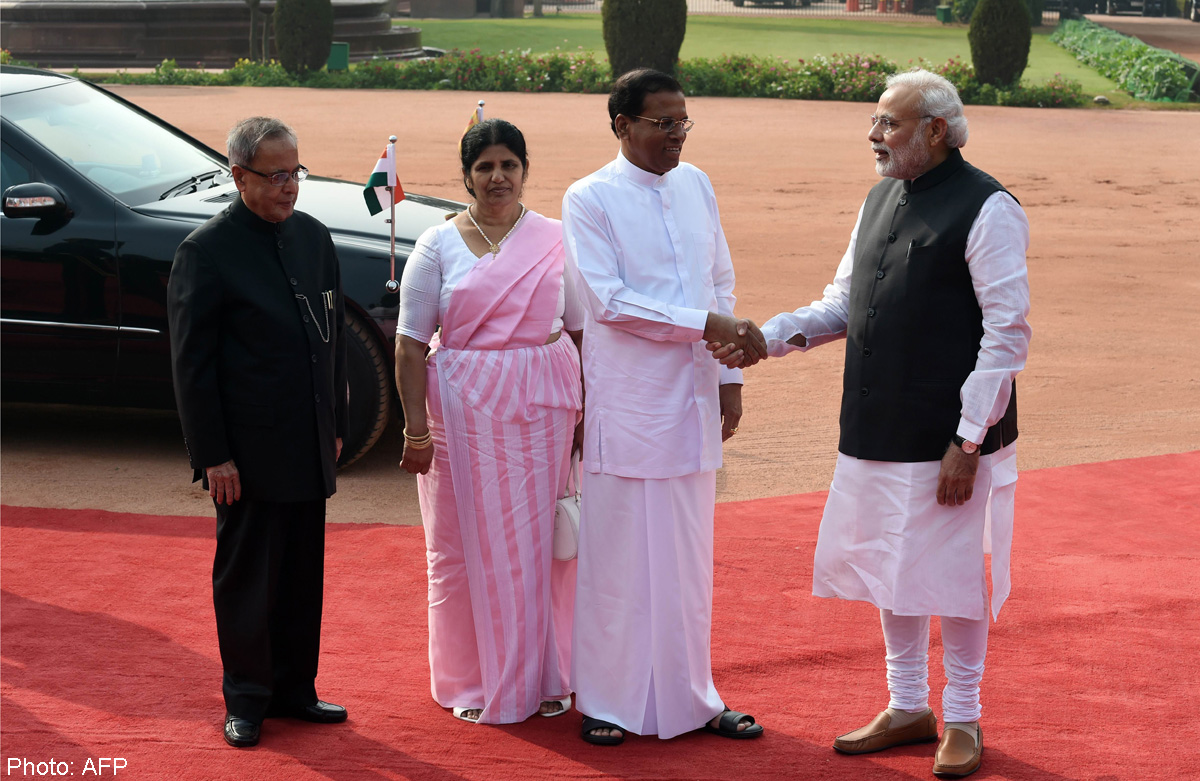 Sri Lanka's new president held talks with Indian leaders Monday on his first foreign trip, trying to reset ties with the region's powerhouse after strains over China's growing influence on the island.
Maithripala Sirisena, who defeated veteran strongman Mahinda Rajapakse in elections last month, was expected to push for more Indian investment and cooperation on nuclear energy in meetings with Prime Minister Narendra Modi and other top officials in New Delhi.
But analysts say the visit's main significance is as a signal of intent from Sri Lanka that it wants to rebuild some of the trust eroded during Rajapakse's decade-long rule.
India has long considered Sri Lanka to be within its strategic sphere of influence, sending troops to the island in 1987 to enforce a peace accord it brokered between Colombo and separatist Tamil rebels.
But under Rajapakse China ploughed huge sums into Sri Lankan infrastructure projects, becoming the country's biggest foreign financier and enjoying significant political and even military influence. India was reported to have been furious at the brief appearance last year of two Chinese submarines in Sri Lankan waters.
China has been accused of seeking to develop facilities around the Indian Ocean in a "string of pearls" strategy to counter the rise of its Asian rival India and secure its own economic interests.
After meeting India's Foreign Minister Sushma Swaraj, Sirisena began lunchtime talks with Modi at his residence in the capital. Speaking to reporters before the meetings, Indian foreign ministry spokesman Syed Akbaruddin said the talks would cover a wide range of issues, including on nuclear energy.
"When India and Sri Lanka talk, we talk on all issues and there are issues of a political and strategic nature that we are engaged in," he said.
"You are aware that there have been discussions between India and Sri Lanka on matters of civil nuclear cooperation and we are both committed to take this forward." - Nuclear talks
Speaking on condition of anonymity, Indian diplomats in Colombo said Sirisena and Modi were expected to reach an agreement on cooperation in the civilian use of nuclear technology. This stems partly from Sri Lanka's concerns that any disaster involving the Kundankulam nuclear plant in India's Tamil Nadu state could have catastrophic consequences for the island too.
Under the proposed agreement, India would provide technical assistance in education, training and disaster management. Sirisena is also expected to try to secure greater Indian investment in Sri Lanka, which said last week it was seeking an international bailout of more than $4.0 billion.
China funded much of Sri Lanka's post-war infrastructure under the Rajapakse administration but the new government has said the interest rates charged on the loans averaged between five and seven per cent.
Sirisena is being accompanied by several ministers, including Reconstruction Minister D. M. Swaminathan, who said the government was keen to secure India's support for ethnic reconciliation following the island's decade-long ethnic war that ended in 2009. Sri Lanka's minority Tamils share close cultural ties with the Tamils in Tamil Nadu.
Modi's predecessor Manmohan Singh boycotted a Commonwealth summit in Colombo in late 2013, partly to protest at the Rajapakse administration's treatment of the Tamils.
Modi, who has made clear his desire to reassert India's dominance in its own backyard, will travel to Colombo next month. Sirisena is due to be guest of honour at a banquet thrown by Indian President Pranab Mukherjee in the evening.
On Tuesday he will travel to the Buddhist pilgrimage site of Bodh Gaya and a Hindu temple in Tirupati further south before leaving the next day.